Christmas is upon us, make your gifts count!
It has been a challenging year on so many levels, the pandemic and what it has instigated whether related to the economy or health has been unfortunately big and dramatic. The initial panic about COVID-19 when it first hit seemed to be unbearable. However, human nature is amazing so we adapt to changes quicker and easier than we think. This holiday season is certainly different than any other. Apart from the religious part that the holiday presents, Christmas is also about families, friends, loved ones, people that we enjoy seeing, partying, and socializing with. So this year is different, and I'm sure we will miss out on such gatherings and celebrations. But I also feel we are still blessed in so many ways.
Christmas to me is also about peace and love, helping others, is about giving. So, this year in particular I thought we can be extra thoughtful in our giving and gifting, we can think of others, so our gift can have a double effect, not only make the person who is at the receiving end happy but also provide support to the others who did put so much work and attention in making. In other words, let's support a good cause and lift the spirits by helping those artisans and small businesses to make up for some of their losses as the result of this locked-in situation.
Handmade crafts from the holy land
To help you pick, I gathered a shortlist of some beautiful yet practical things that I thought you may like to consider when shopping for your holiday gifts. The Following items you can find in my shop and I will also link to them inside the text to help you easily browse: Angled large spoon: I use a lot for sautéing onions and other vegetables. [$12.95]
Salad Claws: perfect for salads and makes the dish looks extra unique, they're practical and hold salad well [$15.95]
Honey dipper & Lemon Reamer they go great together as a small gift set. And if you want, you can top those with a keffiyeh. [Both with a keffiyeh $46.89] The Lemon reamer is one of my absolute favorites, the point is sharp and perfect to squeeze the lemon and use the pulp that comes with it.
Ethically Sourced and fairly traded by artisans from Bethlehem
All the olive wood items are ethically sourced from workshops by artisans from Bethlehem. Many of the artisans carry the tradition of working in olive wood from their fathers and grandfathers. It goes back in time hundreds of years, to when the pilgrims from Greece and Italy came to Bethlehem and wanted to take back souvenirs of the holy place. Bethlehem is known to be a thriving city during the holiday season.
But this year, it's empty and sad! The artisans working in the city are the most affected as they wait for this time of the year to greet and meet with pilgrims coming from every corner around the world to spend this holy month in the city!
For your Natural Palestinian Kitchen
Kitchen aprons: They're comfortable, practical, and remind me of home. The bonus each apron includes a traditional Palestinian recipe of Makoubhe, Kalayet Bandoura, Waraq Dawali, and more.
Vivien Sansour from Bethlehem is the brain of these items. She created an heirloom seed library in El Bier center in Bethlehem where she also plants, cooks, and hosts people for workshops and cultural evenings. The design of the aprons is done by designer Ayed Arafeh, and hand printed locally in Bethlehem.
By the one and only Hirbawi Factory. Kufiya Scarves for everyone!
The contemporary keffiyehs come in different colors, they're stylish, edgy, and hip but yet carry Palestine with a modern statement. For more varities you can check out kuffiyah collection on Handmade Palestine's website [$32.95]
Children Storybooks
I highly recommend checking out my two books, Olive Harvest in Palestine and Easter in Ramallah, it is a great way to teach others whether family and friends about culture, traditions, and what life is really all about in Palestine.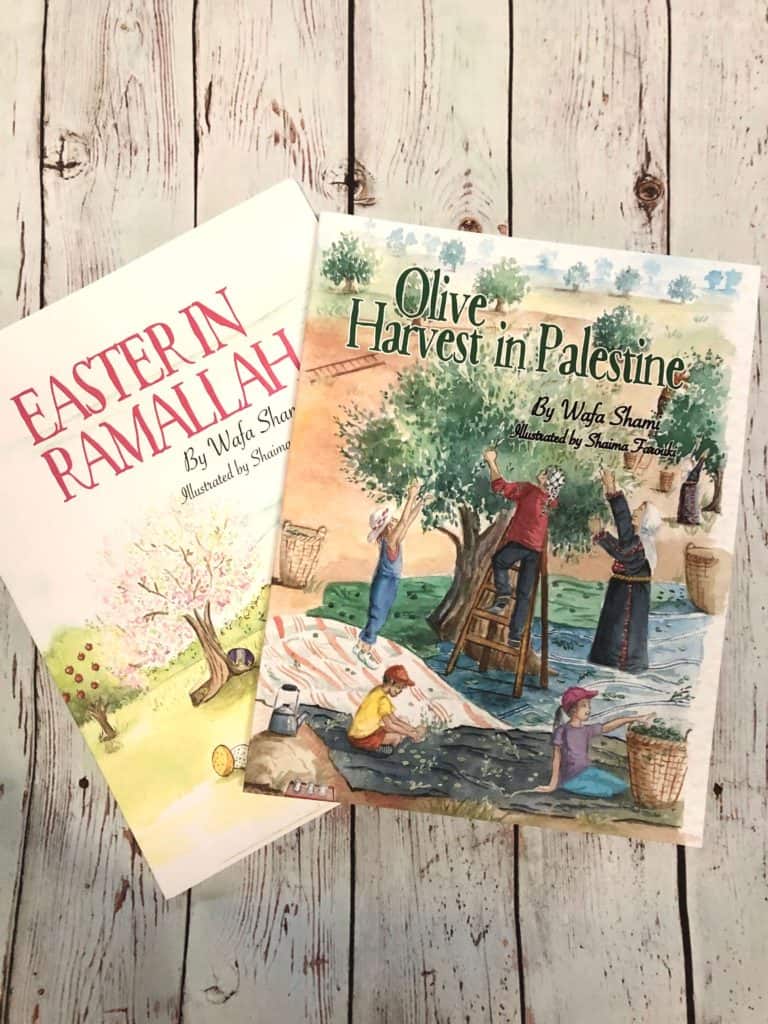 Baba What My Name Mean? A Journey to Palestine by Rifk Ebeid @babawhatmynamemean. When Saamidah, a young Palestinian refugee, is asked by her friends what her name means, she isn't quite sure what to say. She turns to her baba for some answers – but what she gets is an adventure beyond her wildest dreams.

Join Saamidah on a lyrical journey, with dazzling illustrations, that bring to life her beloved homeland and celebrates the richness of her cultural heritage and the determination to return.
Cookbook Craving Palestine – Palestinian Food Recipes
A great cookbook by @cravingpalestine cookbook, that includes more than 100 recipes contributed by inspirational Palestinians from all walks of life. Proceeds of the book sales go towards education, development, and health programs that benefit Palestinian refugees and communities in Palestine, Lebanon, and Jordan through ANERA, an NGO partner of @cravingpalestine.
More Christmas Gifts from Palestine
Handmade Palestine has a great selection of crafts that are handcrafted, ethically sourced, and fairly traded from more than 25 women cooperatives and societies around the west bank, Jerusalem, and Gaza. On their website, you can find all sorts of gifts for Christmas gift shopping that suit everyone in the family. From shawls and scarves to Leather Accessories, Embroidery, Olive-wood figures, Felt toys, and kids' games.
Just to name a few items: Embroidered Handbag by women artisans from Gaza. They have a wide assortment of embroidered crafts in their embroidered collection all at 15% OFF for this holiday season. The handbag is our favorite pick. [Original price $104.95]
You can find stunning Christmas gifts and decorations on their Holiday Gift Collection. The handmade felt items are adorable! [Starting from $6.96]
Botanical Paintings of the wildflowers of Palestine are a great way to add a natural touch to your home and kitchen, and are a great house warming gift. They come available in different sizes. My favorite is to buy 4 the 6″x6″ and frame them together as a square. It's so wild, so natural. Original paintings by Lois Nakhleh and Joan Musgrave. [Starting from $9.95]