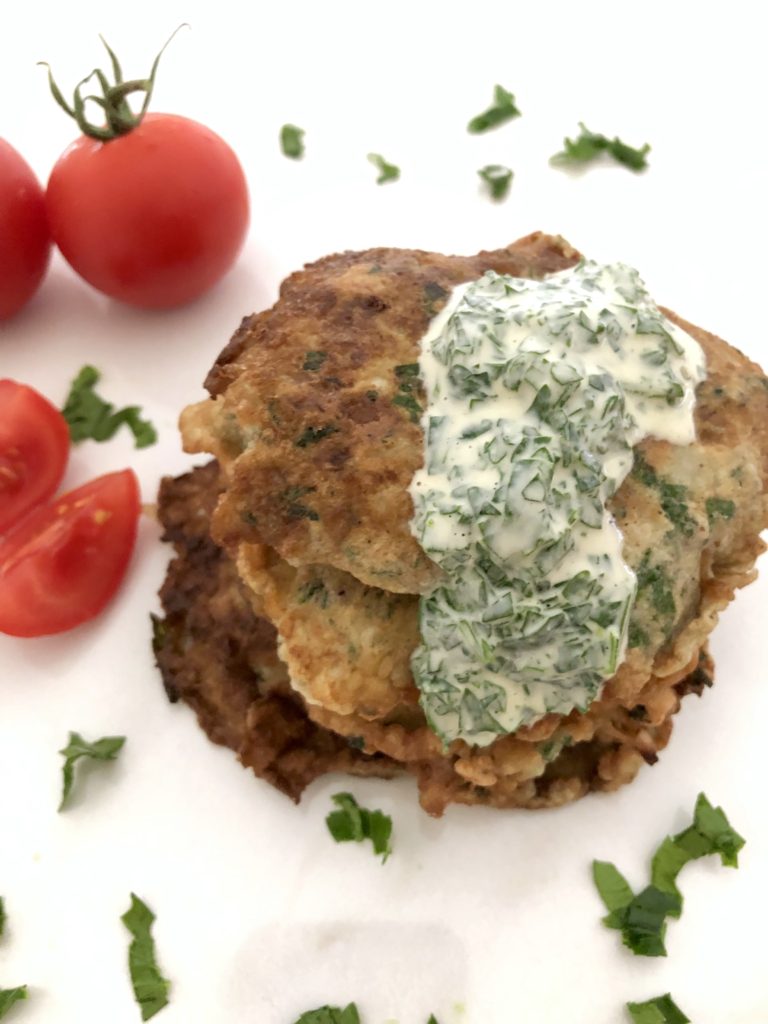 We're getting into the winter weather and since cauliflower is more of a winter vegetable, or that were my memories growing up for this dish. That my mom mostly makes it during winter time.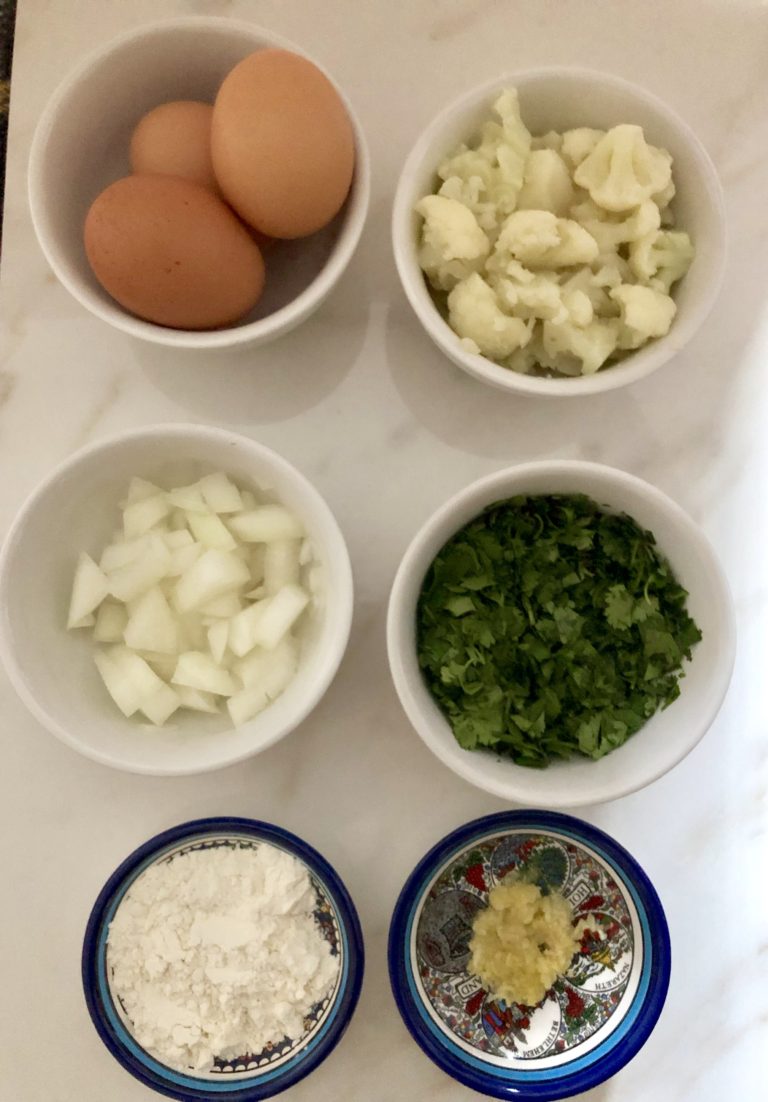 Half of the cauliflower is enough for about 3 people, with 3 eggs. This dish also includes parsley, onions, garlic, salt, and cumin powder. Start by rinsing cauliflower and split into big florets then boil cauliflower with water until florets are soft but not too mushy. Drain water out and once florets are cooled off cut into small pieces. Beat eggs separately and add onions, garlic, parsley, and spices. Add to that two tablespoons of flour. The flour helps the batter to stick together once fried.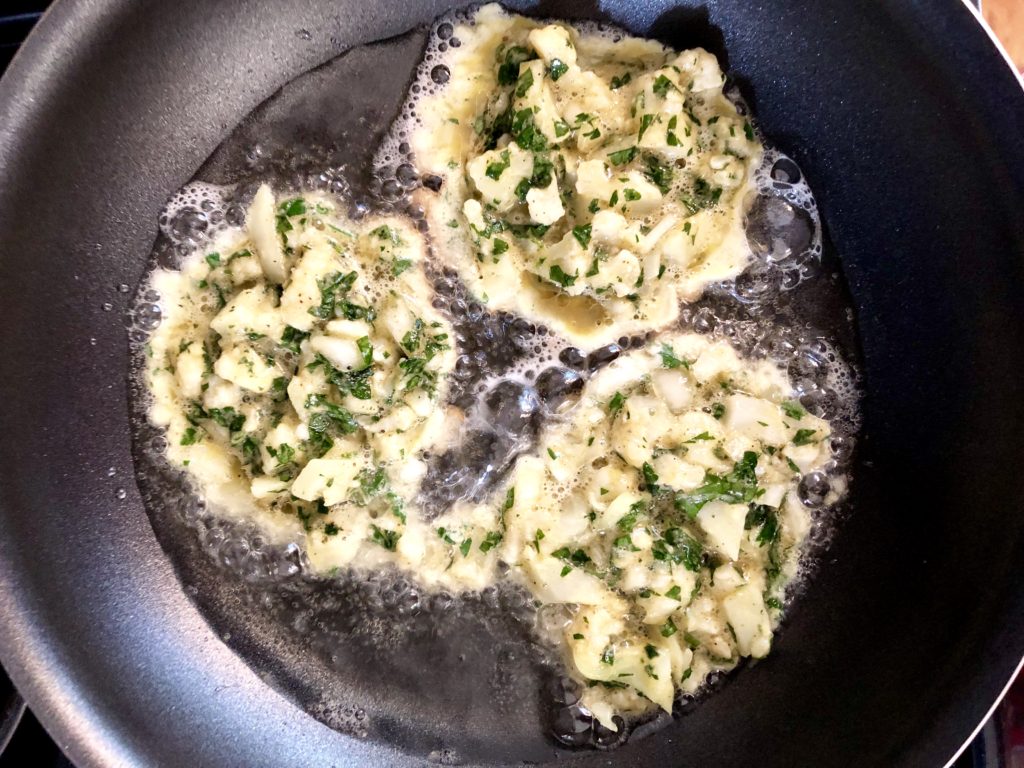 Heat vegetable oil in a skillet. The process is not necessarily deep fried, so no need for deep frying like frying French fries, but make sure there is enough oil in the skillet. With a large tablespoon scoop in the batter and place on the heated oil. Depending on how big the skillet is 3 to 4 scoops can be fit at a time,  lay next to the other. When one side is slightly browned flip to the other side.
I love to eat this in a pita bread sandwich with tahini parsley dressing (ba'dounsieh). Mix tahini with water and add fresh lemon and salt, then add finely chopped parsley and mix all together.
Ingredients:
½ cauliflower
3 eggs
½ bunch of parsley
1 sweet onion
2 cloves garlic
2 tablespoon flour
1 teaspoon cumin powder
½ teaspoon allspice
salt
¼ cup vegetable oil
Instructions:
Cut cauliflower into florets after rinsing. Place them in a pot and cover them with water. Let it boil for about 30 minutes and until cauliflower is fully soft but not mushy.
Drain water and cut florets once cooled off into small pieces.
Separately, chop onions, crush garlic, chop parsley.
Beat eggs together then add all ingredients: cauliflower, onions, garlic, parsley, cumin powder, salt, allspice and flour. Integrate everything well together.
Heat oil in a skillet and with a spoon take a scoop out of the batter and place it on the skillet. Add 3 to 4 scoops next to each other.
When slightly browned flip to the other side until it's brown, then remove from oil and repeat process with the rest of ingredients.
Parsley and Tahini Dressing
Ingredients
2 tablespoons tahini (sesame oil)
2 tablespoons water
½  lemon juice (adjust to taste)
salt
½ of parsley
Instructions
Add water to tahini and keep stirring, until the mix turns liquid pasty, it will look more like a thick dressing, then add lemon and salt. Add finely chopped parsley