Marhabah and welcome to my site. I'm Wafa founder, creator, and food photographer behind Palestine in a Dish. Here you'll find authentic-traditional Palestinian recipes and more modern which are inspired by my Palestinian kitchen flavors. My blog is all about my mother's authentic recipes that I grew up eating.
WHAT YOU'LL FIND IN PALESTINE IN A DISH
Palestine in a dish is all about Palestinian foods, and traditional Palestinian recipes. Most of my recipes I learned from my mother and some were shared by other members of my family.
Because I love to cook and enjoy eating delicious food, you will also find some recipes that I developed inspired by my Palestinian cuisine.
I am big on eating healthy, therefore using fresh, from scratch and seasonal produce is essential in my cooking and also to Palestinians. You'll often find alternative healthier options to some recipes, for instance grilling vegetables rather than frying. Rest assured that any adjustment made to any recipe doesn't take away from the authenticity of its original taste.
Food is a big deal in the Palestinian culture, we come from large families and enjoy eating together, especially during holidays and special occasions. Here you'll also learn some of the stories that come with such special occasions.
If you are a mother like myself, I'm sure you're always looking for delicious hearty food and healthy snacks to share with your family and children. My son is big in stews (yakhni), which I make at least once or twice a week.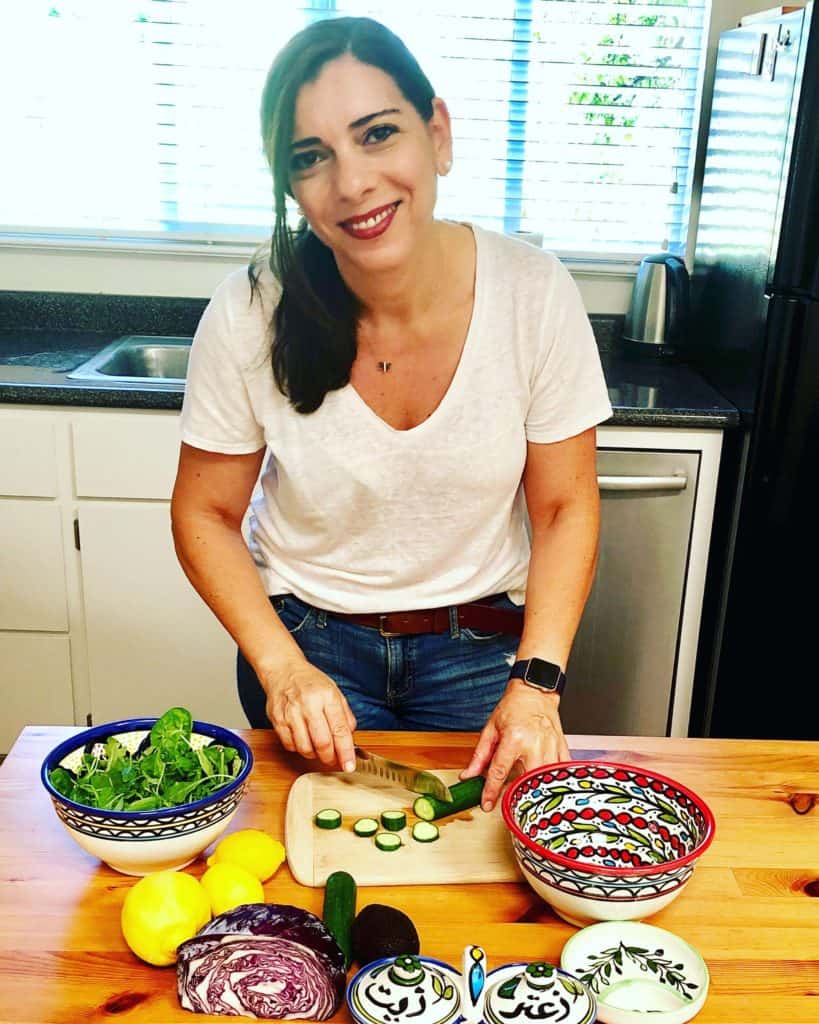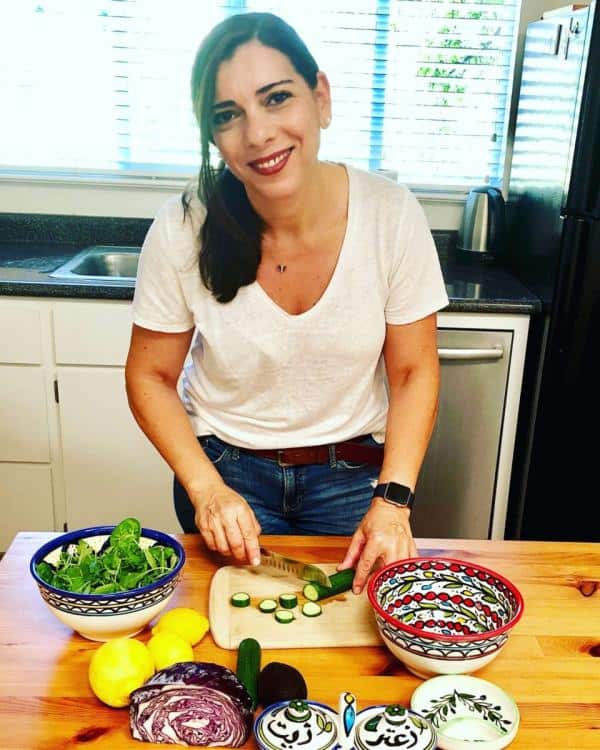 What Palestine in a Dish Offer:
What you will find is a great selection of some of the main Palestinian dishes delicious and flavorful meals, such as cabbage rolls, baked whole chicken, Palestinian couscous (aka maftoul), and musakhan which is considered to be the national dish of Palestine. 
You will also enjoy a great selection of salads, such as fattoush and tabbouleh. A variety of vegan dishes, such as qalayet bandoura, mujadara topped with caramelized onion, and a spring favorite, fava beans. Be sure to check out my very popular Palestinian ka'ak or ka'ak al quds.
Don't Forget the Dessert!
I'm sure we all love to indulge in elaborate desserts every once in a while, so make sure not to miss out on some of the popular Palestinian desserts, like qatayef, a popular dessert, especially during the holy month of Ramadan, qatayef is similar to pancakes, stuffed with walnuts and sweet cheese. Other easy to make desserts are namoura, semolina pudding, and rice pudding, those are recommended to enjoy during the cold winter months, in addtion to one of my favorite recipes, date-filled cookies, that you can enjoy with your tea or coffee.
Best of all, which I'd like to call the queen of Palestinian desserts is kunafeh (coming to the blog soon), originated in the City of Nablus considered the most popular traditional Palestinian dessert made with a special soft dough and stuffed with sweet mild white cheese, baked then covered with simple syrup. This is an absolute favorite to so many and most certainly my son.
And Lastly,
Palestine food is all about flavor and spices, before you start exploring the variety of yummy dishes, make sure to stack up on some of the following: warm spices such as allspice, cumin, black pepper, sesame seeds, orange blossom water, and rose water. Keep in mind that a lot of dishes within Palestinian cuisine require lots of fresh lemon juice and extra virgin olive oil.
I hope you will enjoy making and eating these recipes as much as I, my family, and my friends do. I would love to hear from you, if you happen to make one of the recipes, please take a photo and tag me on Instagram, Facebook, or Pinterest and make sure to leave a comment below any recipe you've made, which will help others to try it.
More About Wafa
In addition to being a mother to a very curious opinionated young boy, I consider myself a humanist and a feminist and very passionate about raising awareness about my country. I grew up in the town of Ramallah, a city in the West Bank, Palestine. Moved to the US in my adult years to pursue higher education, and I graduated with a master's in international studies. Working with nonprofits for most of my professional life has been very enjoyable and rewarding.
I never realized my interest and passion for cooking until I moved to the US and missed my mom's home-cooked meals. I started experimenting and cooking for myself while getting instructions from my mother over the phone.
I love to cook and invite my friends and family over. The great feedback from my friends and family encouraged me to write this blog. Also, think it would be nice to keep my mother's recipes carried on and shared with those who love Palestinian food.
Other projects:
After my son was born I developed a passion and interest in writing children storybooks. Thus far, I have published two stories as described below:
Easter in Ramallah: About friendship and holiday traditions that have been shared among Palestinian, Christian and Muslim families for centuries. A story that reflects the tradition of celebrating Easter holiday that was carried on for years and takes the reader to a fun festive place. filled with a colorful atmosphere, drums playing, love and laughter from the eye of a child.
Olive Harvest in Palestine: About the harvest traditions that have been shared among Palestinian farmers for centuries. This story takes the reader on an journey of imagination. Starting from how the olives are picked, through how they are pressed into oil, bottled and finally arrive in the consumer's hands. Along the way the reader shares in this festive working atmosphere filled with singing, eating, love, and laughter portrayed from the eyes of a child.
When Za'atar Met Zeit: One day Za'atar heard the birds whispering and talking about something extraordinary. As he got closer he heard his name mentioned with someone else called Zeit. Who is this Zeit? Can we meet? What will happen when Za'atar meets Zeit, are they going to like each other? Are they going to become best friends? Let's find out!
I hope your kids will enjoy reading one or all of my books and learn something about Palestine and the Palestinian cultures. Would love to hear your feedback, please leave a review on Amazon, which will help others who are interested to read the books.