I wasn't planning on making apricot jam this year, but when a friend of mine contacted me offering these yummy apricots from her tree, I couldn't resist. The apricots are so sweet, fresh and so perfect for jam.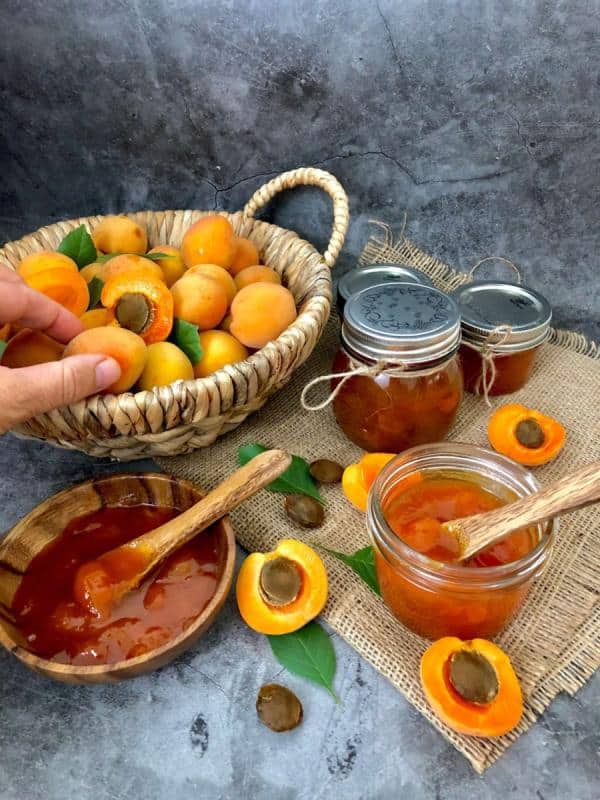 In Palestine, apricot jam perhaps is the most popular amongst other jams. Every year my mother used to make a ton of apricot jam that will last for the entire year. However, in Palestine we also have a different type of apricots, it's called mishmesh mistkawy, the apricots are smaller in size and more of a yellowish color. And the season for this type of apricot is during the early summer, and it's very short which only lasts about a couple of weeks, then you can never find this type of apricot anywhere.
They're most popular in two small Palestinian towns: Jifna which is located north of Ramallah and Beit Jala, another town south of Jerusalem. So this time of the year is called jum'a mishmishyeh, referring to this particular apricot that comes and goes within a week.
Another feature of this apricot is the seed inside the apricot kernel, the seed is sweet unlike other types of apricots which are bitter. So I remember when my mother would start cooking the jam, she'd cut the apricots and place them in this very large cooking pot add sugar and the jam will be cooking on low heat on the stove, and I take all the kernels and sit in patio on the back of our house and with a stone start cracking all the kernels to get the seeds out. Because those seeds are added to the jam. They taste more like dried almonds.
So, today I'm sharing this recipe, perhaps the apricots are not mismish mistkawy but I'm grateful for my friend for sharing these fresh apricots from her tree.
So here is how to make apricot jam.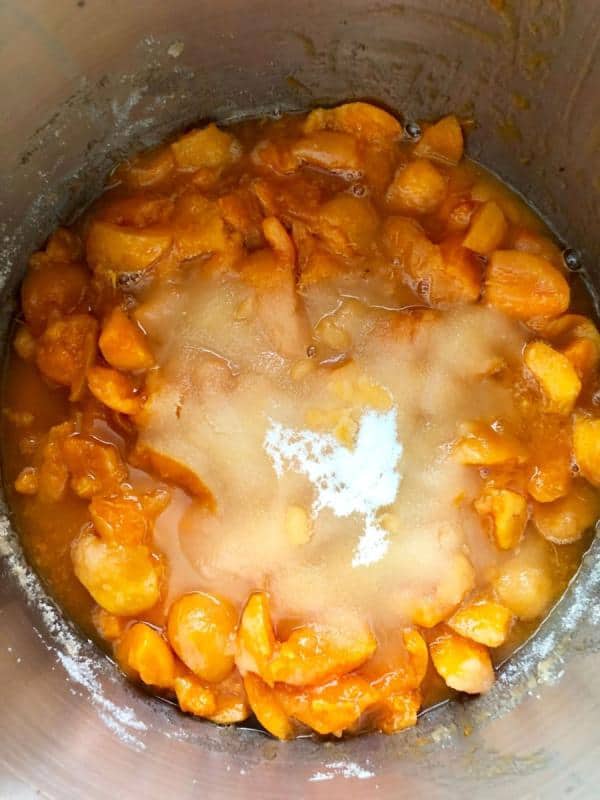 Apricot jam is very easy to make, just like the strawberry one, because it doesn't require a lot of preparation in chopping, it's pretty simple. First, wash apricots well and chop each one into four pieces, take the kernel out. Place them in a pot and add sugar. I don't like to add a lot of sugar; I usually add a little less than the required amount.
The trick of preserving any jam is with the cooking, the jam needs to boil over low heat for a while, and that will help with the preservation. But again, cooking jam is very easy but can be tricky if you don't pay enough attention.
After the jam is cut place it in a cooking pot pour the sugar over and keep it away from water, I usually like to cover the pot with a kitchen towel. Let the jam sit there for about 2-4 hours or overnight and until sugar is melted.
Once ready to cook, place the pot on high heat, this will take about 10 minutes, and once it starts boiling turn the heat on low. Keep occasional stirring once every 10-15 minutes for about 45 minutes. Be careful with the jam, if it's overcooked the color will turn more brownish, try to aim for the nice orange color.
Also if it's undercooked the apricots jam is one of the delicate jams so it won't last for long. Pay attention to when to know it's done is once it starts making sort of boiling bubbles while it's on low heat, then you know it's ready. You can keep it like that for only 5-10 minutes to make sure it's cooked well, then turn it off.
It's very important to have jars washed and fully dried, once the jam is cooked, it's very critical that no water gets inside the pot or the jars, otherwise, the jam will be spoiled.
Fill up the jars while the jam is still hot using a clean dry small ladle and keep the jars open until it's completely cooled off. I usually keep all the jars overnight on a tray away from any water that may get to them, cover with a kitchen towel, and cover the jars the next day. Covers should also be clean and dry. Store in the fridge. It can last up to a year.
Unlike other jams which I normally like to eat on a toast with butter, I like to eat apricot jam with lightly salted white cheese, which is similar to feta, the combination is so good.
Here is how to make apricot jam in more detail.
This recipe makes 3-4 small jars.
Print
---
5 cups

of chopped jam

2.5 cups

of sugar
---
Instructions
Wash jam well and rinse from water.

Cut each apricot into about 4 pieces after taking the kernel out place in the pot and cover with sugar.

Keep the pot for 2-4 hours or overnight, away from any water until sugar melts.

Place the pot on the stove on high heat, stir well, turn the heat on low once it starts boiling. This will take about 10 minutes.

Keep stirring once every 10-15 minutes for about 45 minutes. The jam will start boiling while it's on low heat, that's a sign that it's almost ready.

Turn off the stove and let it cool off in the pot for only 10 minutes.

Then pour into clean dry jars, keep the jars uncovered until the jam is fully cooled off.

Cover jars and place them in the fridge. Jam can last up to a year
---