When we were kids my mother would make us pancakes for breakfast often on the weekends. She made everything from scratch and we used to eat it with her homemade jam. Syrups were not popular in Palestine at the time.
When my son Faris started eating solid food, he never liked eggs and refused to eat them. I started looking for ways to integrate eggs in his food. I thought of making pancakes and started looking for different recipes that include healthy ingredients. Then I found this recipe a few years ago that doesn't have any flour. It also included just the whites in the eggs. I decided to give it a try, however, I modified the recipe to my taste. Also decide that I don't want to waste the egg yolks plus they're full of nutrients and kids need them.
I honestly fall in love with this recipe, and the big bonus is that Faris loved it. It's high in protein, gluten-free, and not only good and healthy but also delicious for both adults and kids. The pancakes are light and fluffy, and you can eat them hot or cold.
I know that some kids resist eating vegetables, so, one day I decided to try adding some vegetables, I know the idea might gross you, but trust me it won't change the taste a bit. So I added some leafy vegetables (arugula, kale or spinach) I tried all of them and they work just fine, give it a try and you'll be the judge. This is a great way to integrate some vegetables in a dish most kids love.
So for those mothers out there who are struggling with kids not eating their vegetables try this recipe, I'm sure your kids will love it.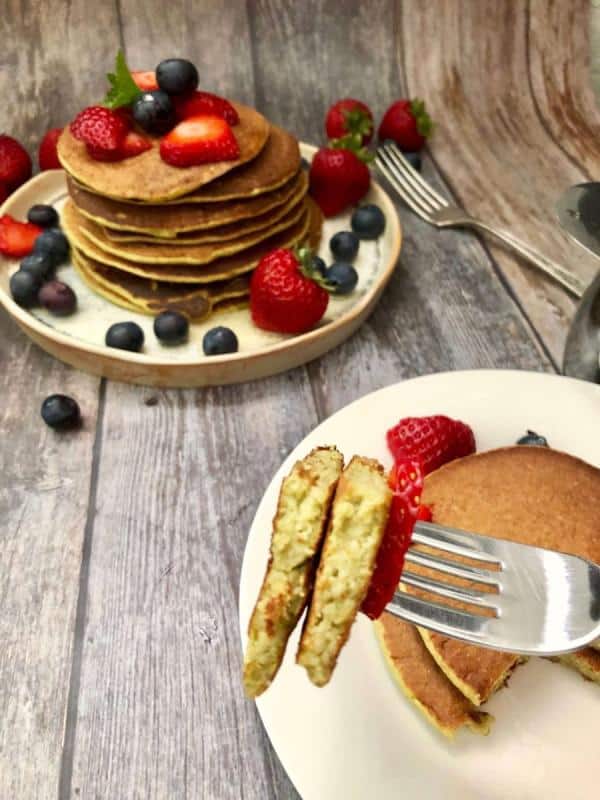 So here is how to make those gluten-free pancakes:
The main ingredients are rolled oats (quick or regular) cottage cheese, eggs, vanilla, and cinnamon, then if you'd like to add leafy vegetables, just one cup of either arugula, spinach or kale will work. Place everything in a blender, then blend well together and the batter is ready. I sometimes add a banana to make it a bit sweeter so I don't have to add syrup and can eat it alone, just be careful once adding banana it might get more liquidy, then you can use fewer eggs or add 1-2 tablespoons of extra oats. And don't you worry honestly you can never mess it up, it so easy and will work out?
Once the batter is ready, heat up the skillet and grease with some butter, depending on the size of pancakes and you don't want them to be too thick nor too thin, I'd start by pouring about a ¼ cup of the batter into the skillet. Let it cook in the skillet for about 1-2 minutes then flip once the bottom turns golden brown. If you have an Electric Griddle, it'll be even much faster and easier, and you don't have to grease it. I bought one not too long ago and trust me it makes a big difference, I love it if you have kids and you often make pancakes it's worth investing in one, and they're not expensive at all.
Here is how to make pancakes with exact details: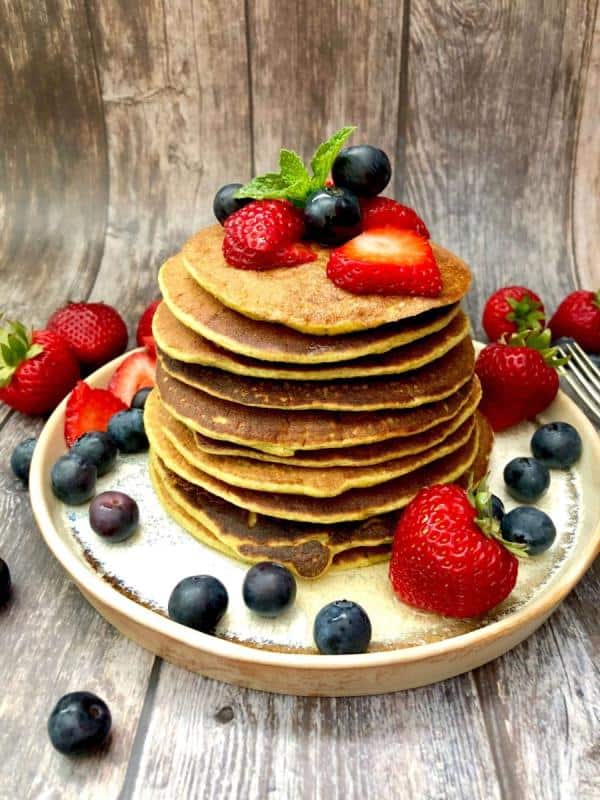 Serve with syrup or jam. Try my Strawberry Jam
This recipe makes about 6-8 medium size pancakes.
Print
---
4

eggs

1 cup

rolled oats (quick or regular)

1 cup

cottage cheese

1 teaspoon

vanilla

1 teaspoon

cinnamon powder

1 cup

of leafy vegetables: arugula, spinach or kale (optional)
---
Instructions
Place all ingredients in the blender. Blend well until everything is integrated.

Warm up and grease the skillet. Pour about a ¼ cup of the batter into the skillet. Let it cook for about 1-2 minutes or until the bottom turns golden brown, then flip to the other side for a few more seconds.
---