This is one of my favorite dishes growing up. My mother would make it often on Sundays when my dad is off from work. I loved this during the hot summer days, and we all gather around the table and enjoy this lovely meal.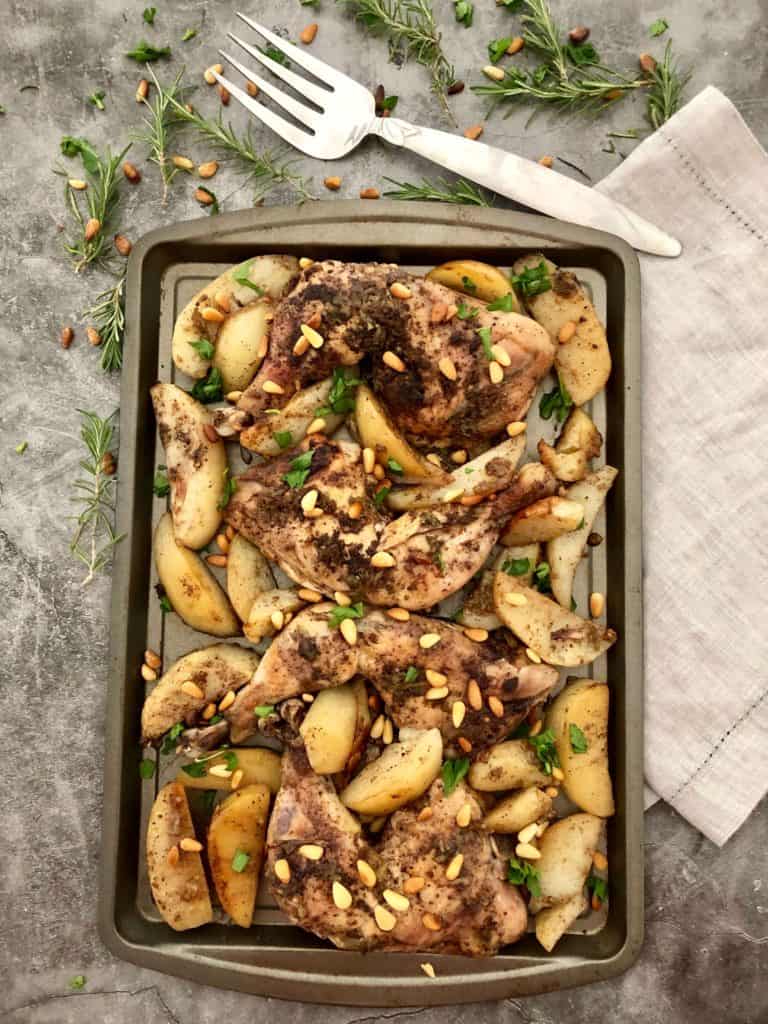 I haven't made it in a while, and when I made it this time it turned out really good, I think I was so generous with the lemon and garlic and that made a big difference with the taste. It was so funny, when Faris had his first bite, and then started laughing hysterically, and I'm like what's wrong!! He goes "Mama this food is so yummy".
So here is how to make baked chicken with potatoes and garlic. I like to get the chicken legs for this recipe, the meat in the chicken legs turns so tender versus the breast, but you can certainly use either. Then I like to use the yukon gold potatoes, I think I love them because these are the ones I grew up eating, I pick the larger size.
As I always say in all my chicken recipes regarding cleaning chicken, it is highly recommended not to wash them, because when chicken is washed it will spread more bacteria. I just sprinkle some salt and pour in some vinegar and let it sit for few minutes then wipe it out with a paper towel. I also like to take all skin out.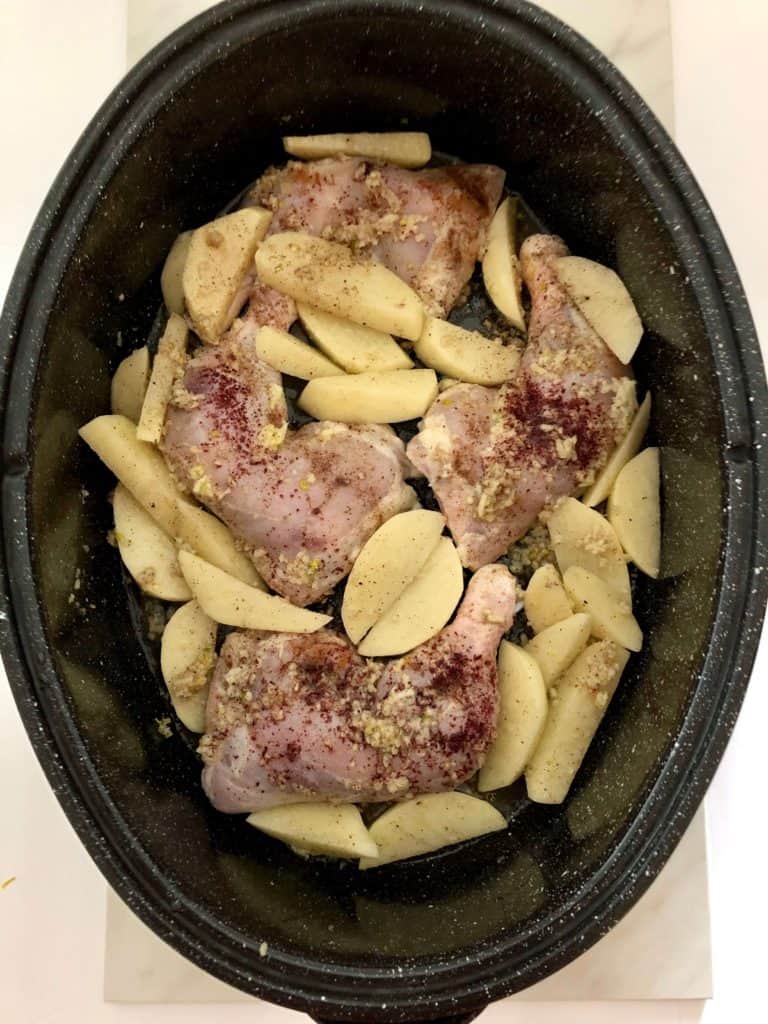 Roaster pot with cover on.
After cleaning chicken, peel potatoes and slice them either rounded or length shape. Crush garlic, I have here about 8-10 cloves of garlic, the more the better. Squeeze about 2-3 lemons. Be generous with garlic and lemon that's what will make the dish tastes so good. Mix lemon juice with the crushed garlic. Then pour half of the amount over the sliced potatoes and mix them up well, some salt can be also added here.
In a roaster (I like to use the granite covered roaster) or in a Pyrex baking dish, place the chicken, and mix well with all the spices: Allspice, cinnamon, salt pepper, and olive oil and then at the end add the garlic with lemon. Then bring in the potatoes and spread them over the chicken. Cover in foil (if using a Pyrex dish) or the roaster cover and bake on a pre-heated oven on 350 degrees for about an hour to an hour and a half. Halfway through cooking check on the pot and make sure it still has some water, if not add about ½ a cup of water for more gravy. If you prefer a more grilled color turn the broiler on for just a few minutes or until potatoes and chicken are more brownish.
Serve hot with a side of salad and rice.
This recipe is enough for 3-4 people.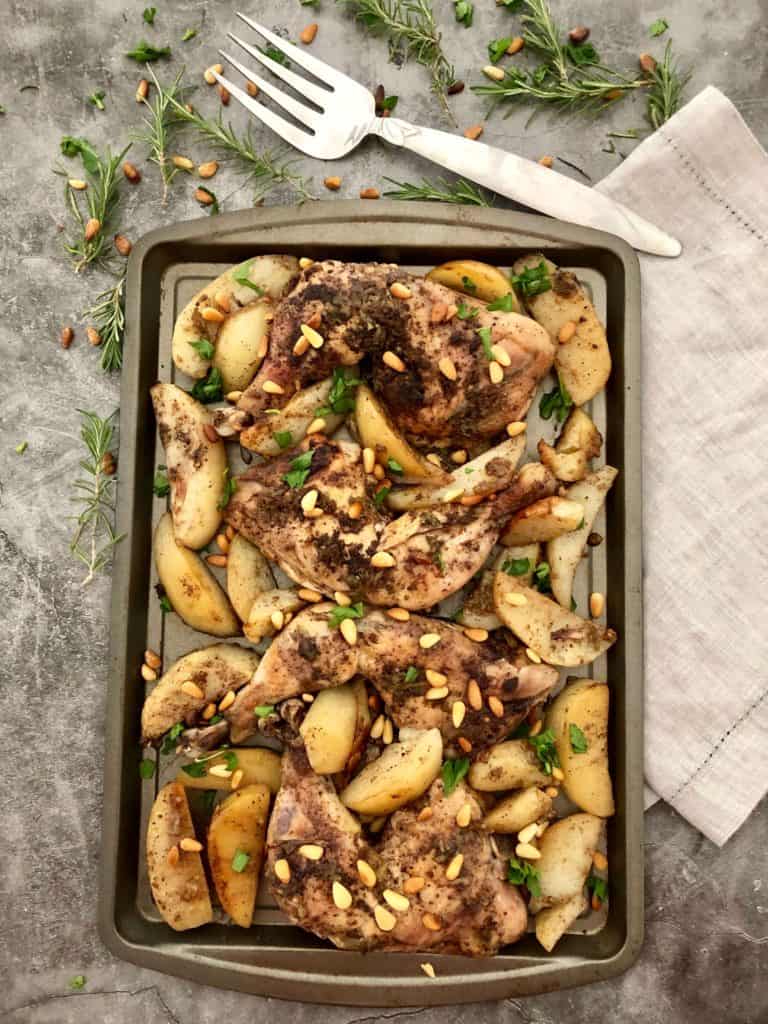 Print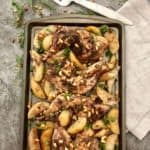 Lemon Garlic Roasted Chicken and Potatoes صينية دجاج مع بطاطا وثوم
---
4

chicken legs or

one

whole chicken cut into

4

-

6

pieces

4

-

6

Yukon gold potatoes

8

-

10

garlic cloves crushed

3

-

4

lemon juice

3 tablespoons

olive oil

1 teaspoon

allspice

½ teaspoon

cinnamon

salt and pepper

½ cup

of water (optional)
---
Instructions
Clean chicken with salt and vinegar, take the skin out (0ptional) and place in baking roaster.

Peel potatoes and cut into rounded or length shape.

Crush garlic and mix with lemon juice.

Pour half of garlic and lemon, and some salt over the potatoes and mix well.

Add allspice, cinnamon, salt, and pepper, olive oil over the chicken and then at last lemon and garlic on top.

Spread the potatoes over the chicken and all around in the baking dish.

Cover and bake in a preheated oven on 350 for about an hour to hour and a half.

Halfway through cooking, check on the pot and if all water dried out, add ½ cup of water if you prefer more juice with the dish.

For a more brownish look, broil for just a few minutes under the broiler.
---