Shawarma is everyday street food in Palestine, also lately it has become very popular in the US. In my hometown Ramallah, when you walk around town you'll find a few small places specialize in just making shawarma.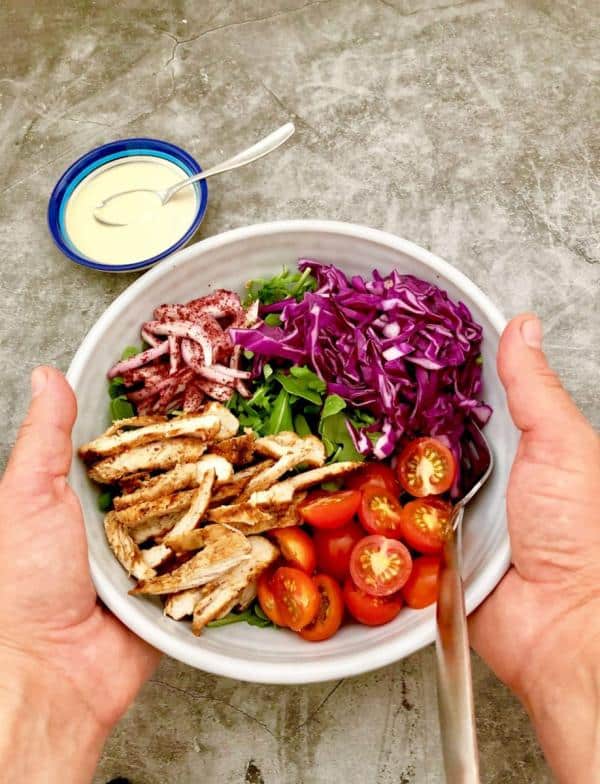 Shawarma is basically well-marinated meat with a combination of spices (it can be chicken, beef or lamb) layered on a vertical rotisserie or a long-standing skewer where it's slow-roasted until perfectly tender and full of flavor.
One place that is very popular in Ramallah and for some reason the shawarma they make has a very distinctive taste and different than any other shawarma I've ever had, the place is called Abu Iskandar, it's been there for generations. I remember this place since I was a little kid. And every time I visit home I love to go there and enjoy their shawarma.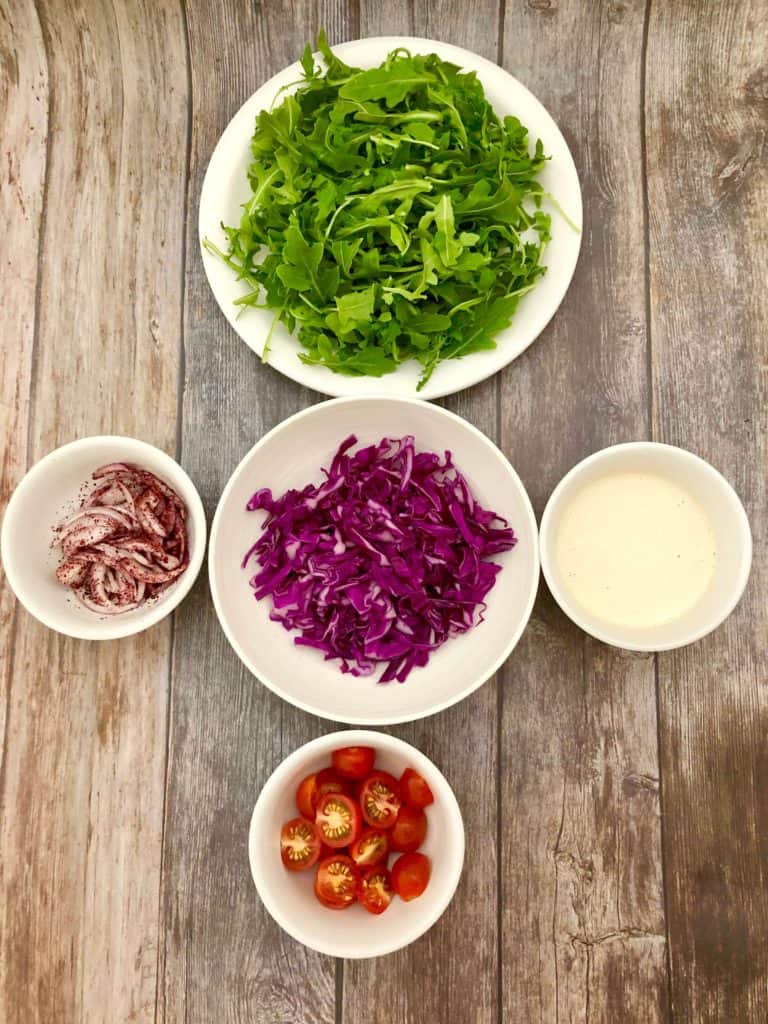 To serve it, the shawarma is shaved and normally served in an Arabic bread wrap or sandwich covered with Tahini sauce, pickles, and other vegetables.
So today I thought of those who are following a diet and cutting back on carbs, they can still enjoy this meal but perhaps without the bread. So I decided to replace the bread with more vegetables, more like a shawarma salad or bowl.
So here is how to make chicken shawarma, the same can be applied for meat, but you may want to marinate the meat for a long time since it takes more time to get tender.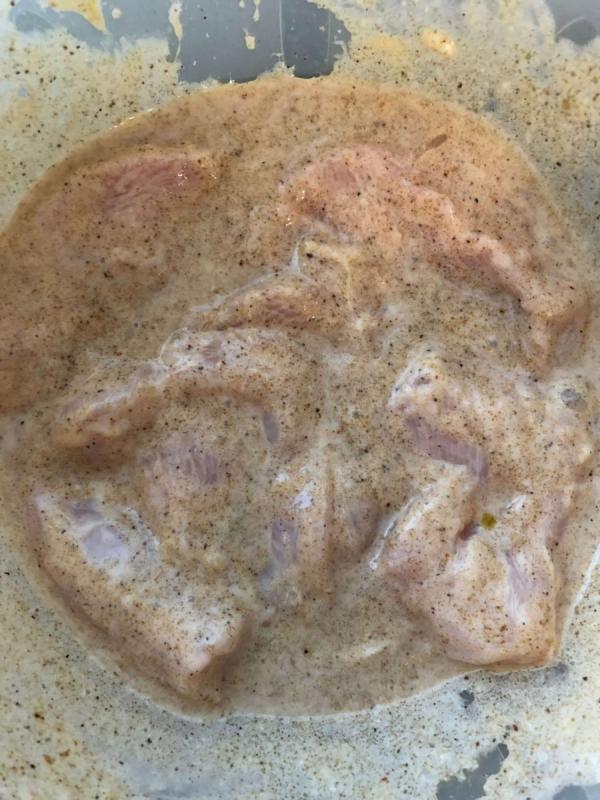 Start with marinating the chicken, there are different variations of spices that others use, but I like this combination which includes: garlic powder, onion powder, ginger powder, cinnamon powered, clove powder, black pepper, salt, olive oil, lemon, and yogurt. Just simply mix all these ingredients together and pour over the chicken, if boneless breast chicken is used I highly recommend cutting the breast into a fist size thinner pieces as it cooks faster. Keep the marinated chicken in the fridge for up to 4 hours or overnight.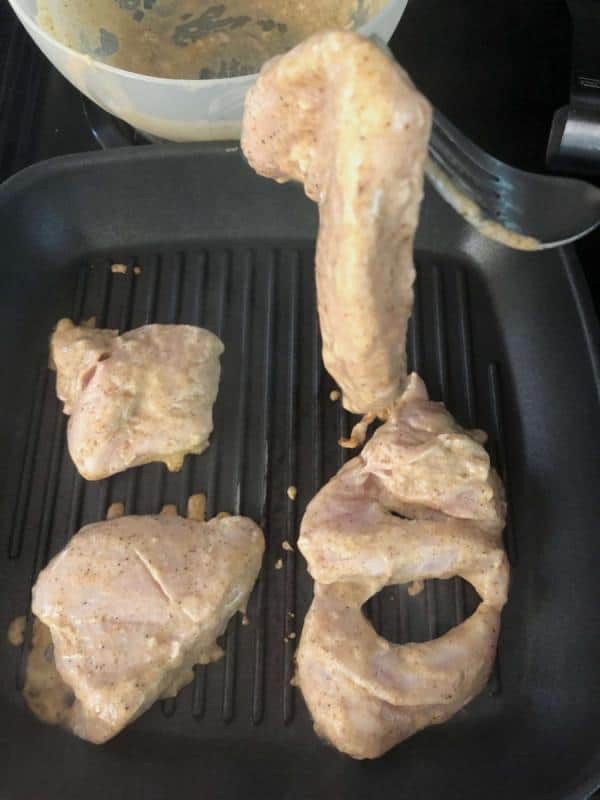 Heat the pan, any type of skillet pan is fine, I have this grilled pan type which makes them look more like grilled. No need to grease the skillet since the chicken has olive oil already. Place the chicken on the skillet and let it cook for few minutes on high-medium heat depending on your stove. If they're cut thin as I indicated earlier it will take less time for the chicken to fully cook. Once the bottom is brownish flip to the other side, continue the process until all the chicken is done. Set aside until it's cooled off then cut into smaller slices similar to a shaved shawarma type.
Prep the tahini sauce to use as your dressing, I love tahini sauce and I always like to have extra in my shawarma. It's nice to have the sauce more liquidy since it is used here more like a dressing. Mix the tahini well with water then add lemon and salt.
Slice onions lengthwise, any type of onions is fine, I like to use the red onions, then add the sumac spice to it, which is another important spice that is served in a shawarma sandwish. I can't have my shawarma without this part.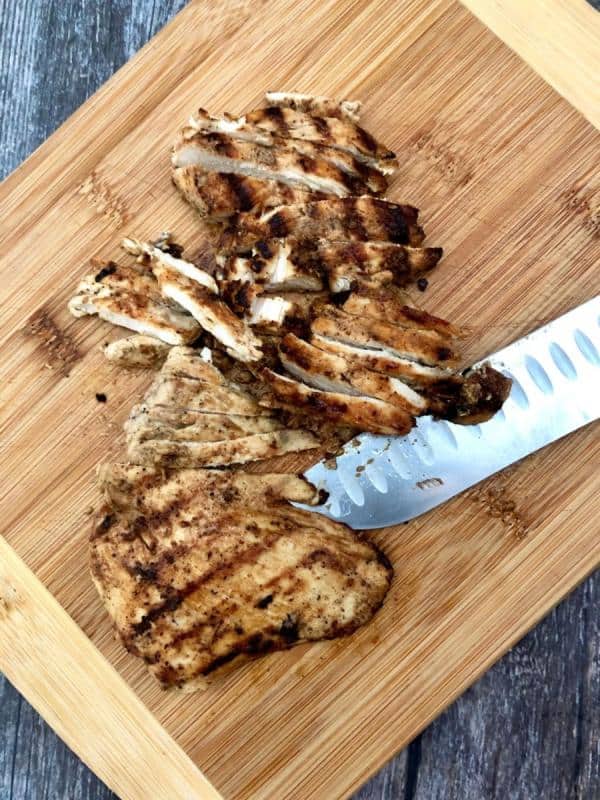 The bottom of the salad can consist of any leafy vegetable of your choice, lettuce, arugula, spinach…etc. And since lately I've been more into eating arugula so I have arugula here as the base of my bowl.
Arrange the bowl by placing the leafy green vegetables at the bottom, then top it off with chicken shawarma, sliced tomatoes, onions with sumac, and red cabbage. And pour the dressing over once served.
Here is how to make chicken shawarma in details:
Print Chicken Shawarma Salad Bowl شاورما الدجاج
---
2

breast chicken cut thinly

½ teaspoon

garlic powder

½ teaspoon

onion powder

¼ teaspoon

ginger powder

¼ teaspoon

cinnamon powder

¼ teaspoon

clove powder

½ teaspoon

black pepper

½ teaspoon

salt

¼ cup

olive oil

¼ cup

lemon juice

¼ cup

plain yogurt

2 cups

arugula or any other leafy vegetable

½

shredded red cabbage

½ cup

sliced tomatoes

2 ounces

of sliced red onions

1 teaspoon

sumac spice

½ cup

tahini (sesame oil)

½ cup

of water

¼ cup

lemon juice

salt
---
Instructions
Mix all the spices together with the lemon juice, olive oil, and yogurt.

Slice the chicken into fist size thin pieces.

Pour the above mixture over the chicken, stir well and let it marinate in the fridge for 4 hours or overnight.

Once the chicken is marinated, it needs to be cooked. Heat up the pan, place the chicken, and let it cook on medium-high heat for few minutes and until the bottom turns brownish. Then flip to the other side for another few minutes. Until both sides look fully cooked. Once grilled slice chicken into more of a shaved looking type and set aside.

Prepare tahini dressing by gradually adding water to tahini with continuous stirring, then add lemon and salt, adjust to taste.

In a large bowl, start by arranging the vegetables by placing arugula on the bottom, then top it off with sliced chicken shawarma, sliced tomatoes, sliced onions with sumac and shredded cabbage. Pour tahini sauce over prior to serving.
---
This recipe is enough for 2 people.