Fateh from yafutu, in Arabic means to crumble, it's a very common word to various fatteh dishes within the Palestinian cuisine.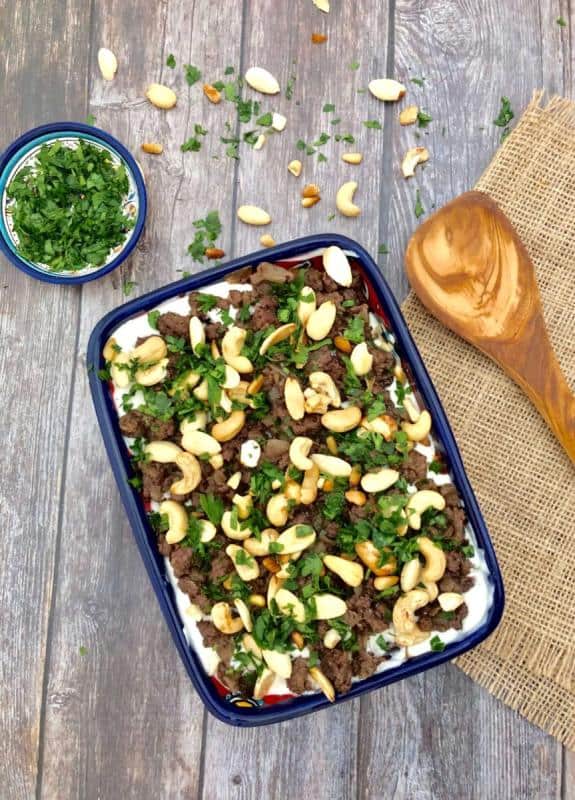 Any fatteh dish is based on layers of different items, such as bread with chicken, or rice with meat or one of the most popular ones is fattet hummus which is bread with chickpeas. Or another with chicken fatteh dajaj.
Today, the kind of fatteh I'm using consists of eggplants as one of the main layers. It's a dish that one of my sisters has mastered and it's turning a specialty of hers amongst the family. She often makes it when there is a gathering of a celebration of some sort, and everyone in the family awaits to eat this dish with great excitement during those fun gatherings.
So she happily shared her recipe and I do hope you all will like it. It's a unique dish with lots of flavors. Her recipe is unique compared to many recipes I've seen. She uses a certain ingredient that I haven't seen anyone used in this particular dish, and this ingredient adds an extra flavor for this dish.
The dish has many layers and it can be overwhelming, so don't be alarmed, and trust me it's very easy once you have everything ready, and the outcome is so delicious and worth all the effort.
So here is how to make fattet batenjan.
With this recipe the bread and the eggplants which are placed at the bottom layer of this dish supposed to be fried.
However, I always try to avoid frying so I grilled the eggplants and for the bread, which can be toasted aiming for a crunchy texture which is a must of this dish, I bought ready toasted pita chips bread from Trader Joe's. So this step saved an extra amount of unnecessary work and definitely a healthier option.
So once the eggplants are grilled and cooled off, chop into smaller cubes. Meanwhile, prep the meat. Add ground beef or lamb over sautéed onions including the spices and sauté until meat is fully cooked.
Tomato sauce which will be mixed with the grilled eggplants prior to layering. Just mix tomato paste with hot water with some salt and allspice, let it boil for 3 minutes, set aside to cool off.
Keep in mind that the tomato sauce does not need to be hot because if it's hot the bread will be soaked with the sauce and the crunchy taste of the toasted bread will be lost. So by now, you know that this dish should be served just prior to eating. Meaning all the ingredients can be prepared any time before, however, the layering can be done only prior to serving the meal.
The only thing left is to prepare the yogurt mixture, which consists of yogurt, tahini sauce, lemon, salt, and garlic. Mix all well and set aside.
Once everything is ready, we start by layering the dish. In a rounded or squared deep large serving plate, start with the bread, I also break the bread into smaller pieces, on top of the bread add grilled eggplants mixed with the tomato sauce, then add the yogurt mixture and leaving the meat to the top.
Sprinkle over the dish the roasted nuts, I have here, almonds, cashews, and pine nuts. I also roasted the nuts alone without any oil and they taste just as good. Sprinkle chopped parsley for garnishing.
This dish is enough for 3 people.
Print Eggplant Fatteh - Fattet Batenjan فتة باذنجان
---
½

-

1

cup of toasted bread cut into smaller pieces

1

eggplant sliced and grilled with some olive oil then chopped into squares

½

pound ground beef or lamb

1

onion

2 tablespoons

of tomato paste

1 cup

hot water

1 cup

plain yogurt

2

cloves crushed garlic

1

juice of a lemon (adjust to taste)

1 tablespoon

tahini sauce

1 teaspoon

allspice

pinch of cinnamon

pinch of nutmeg

2 tablespoons

of oil
---
Instructions
Peel and slice eggplants, sprinkle some olive oil and salt. Grill each side until they're brown. Once cooled off, chop into small cubes.

Sauté onions with oil until they're golden, then add meat, sauté well for 2-3 minutes then add salt, a ½ teaspoon of allspice, nutmeg and cinnamon. Continue with occasional sautéing for about 20-30 minutes on medium heat until meat is fully cooked. Set aside.

Add tomato paste to hot water, mix well and in a skillet let it boil for 2-3 minutes, add salt and a ½ teaspoon of allspice. Let it cool off.

Mix one tahini sauce with yogurt and lemon (lemon quantity can be controlled depending on how Sauer the yogurt is), add crushed garlic and salt (optional). Mix everything well and set aside.

In a deep large serving plate layer, the ingredients start with the bread, then the eggplants mixed with the tomato sauce, then the yogurt mixture leaving the meat on the top. Decorate with roasted nuts and some parsley.
---