Sometimes I do love to experiment with different vegetables and see how things will turn out. This recipe is not a Palestinian one per SE, but it's inspired by my Palestinian food passion.
Early on I wasn't a big fan of green cilantro. I loved the Pico de Gallo (Mexican salsa) but never really cared much for cilantro. Then suddenly, and not sure how my taste buds completely changed, I started loving anything and everything with cilantro.
So one time I had broiled eggplants and red bell pepper in my fridge, so I started thinking of making something different other than the usual stuff, so I experimented with mixing the eggplants and red bell pepper together. The sweetness that comes out of the red bell pepper, combined with the eggplants and topped off with cilantro makes this vegan dish so yummy!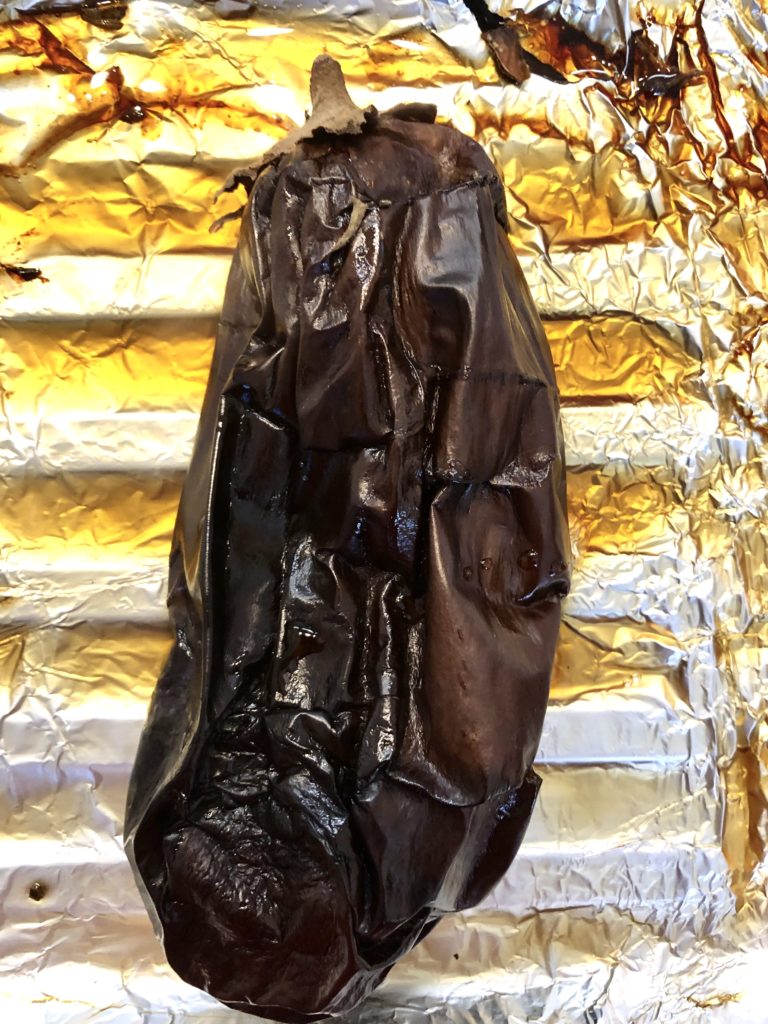 The first thing to do is to broil eggplant. Turn broiler on, broil eggplant in one piece, only cut few slits through the eggplant skin, place it on a baking sheet and broil for about 30-4o minutes, then flip to the other side for another 15 minutes. Make sure the inside is very soft. (if you've made baba ghanouj follow the same method for broiling eggplants). I usually use my toaster oven for this step.
Peel skin out once eggplants cooled off.
Meanwhile, saute onions in heated oil until golden, then add chopped red bell paper. Integrate everything together on medium heat for few minutes, then cover, turn on low and keep occasional stirring and until bell peppers are very soft. This process might take up to 30 minutes. Red bell papers do take some time to soften. It's critical for this dish that they turn soft.
Cut eggplant after peeled into small pieces and add them to onions and pepper, add salt, black pepper and allspice sauté for a couple of minutes, then top it off with chopped cilantro. Be generous with the cilantro.
Print Eggplants with Red Bell Pepper
---
1

medium-size eggplant

1

sweet onion chopped

1

large or

2

small red bell pepper chopped

2 tablespoon

oil (vegetable or olive oil)

½ teaspoon

allspice

salt and black pepper

8 oz

green cilantro or

half a

bunch
---
Instructions
Cut a few slits in eggplant then place under on a baking sheet under the broiler and keep it for about 30-40 minutes, flip to the other side for another 15 minutes and until the eggplants look very soft inside. Set aside and let it cool off.

Sauté onions until golden with heated oil, then add chopped bell pepper. Integrate both together on a medium heat then turn the heat on low, cover the lid and keep it for up to 30 minutes with occasional stirring and until red bell pepper turns very soft.

Chop broiled eggplants after they have cooled off and peeled and add to the mixture. Add allspice, salt, and pepper and mix everything together and let it cook for another 2-3 minutes. Top it off with green chopped cilantro.

It is a side dish, enough for 3 people.
---