Mulukhiya ملوخية, also known in English as "Jew's Mallow", A green leafy vegetable a classic middle eastern dish very popular across the Arab world. Originating in Egypt thousands of years ago , during the era of Pharaohs. Pharaohs would eat Mulukhiya for its great health benefits. This recipe is featured on The Markaz Review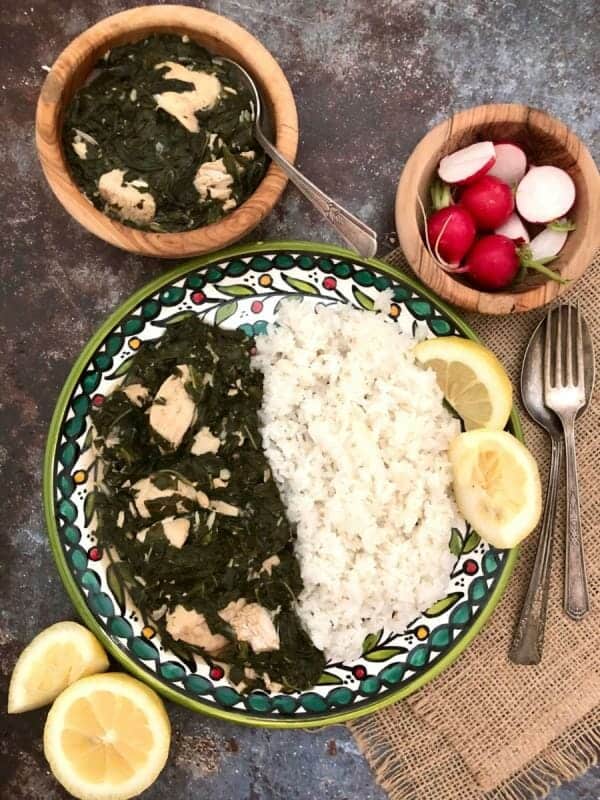 Origin
Believed that the name Mulukhiyah (pronounced Molokheyya, Molokhia, or Mulukhiyyah) originated from the Arabic word Mulukia (meaning royals). Also from the word malek (ملك) meaning king, referring to food served exclusively to royalty. When King Farouk came into power he changed the name from mulukia to mulukhiyah, some say suggesting the dish was no longer reserved for the royals.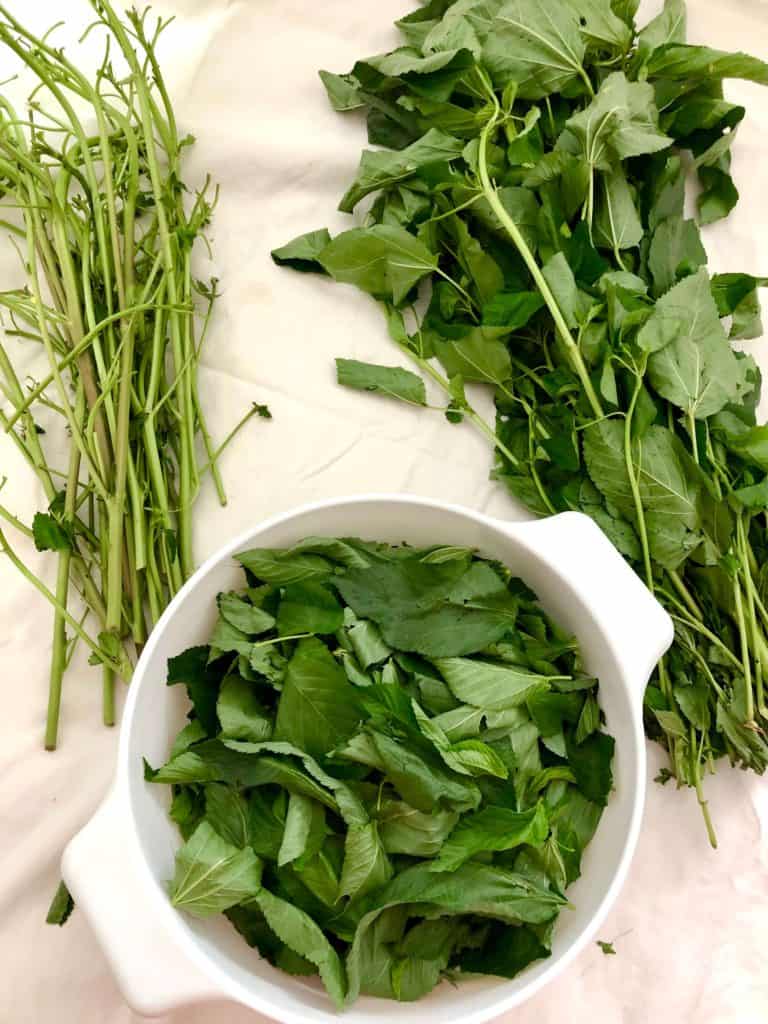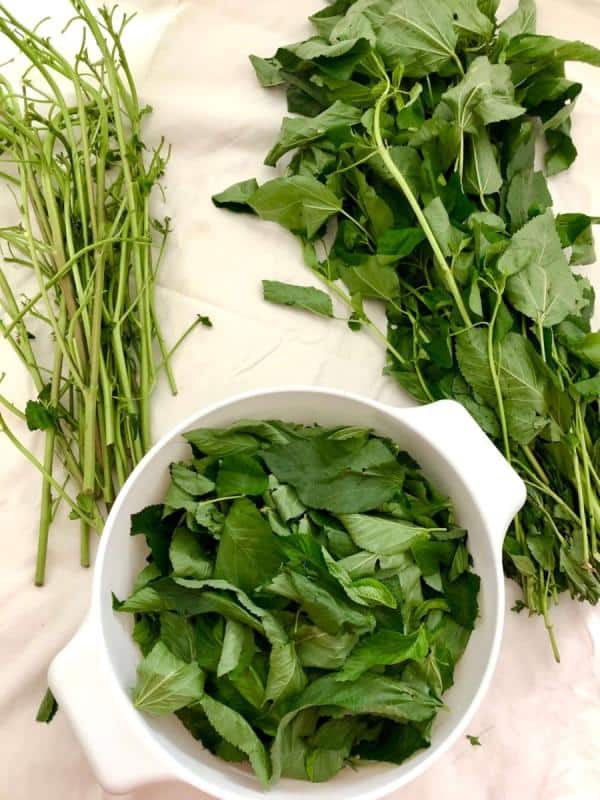 Fresh Mulukhiyah leaves are only available during summer time. Palestinians would buy Mulukhiya in large quantities and prepare it for storage to use throughout the year. My late father would buy 10-20 big bunches during his visits to the farmer's market (hisbeh) on Sundays. Mulukhiyah comes in long stems with leaves that are picked.
My mother, sisters and I would sit on the back porch on Sunday afternoons surrounded by Mulukhiyah everywhere. It would to take us several hours to remove all the leaves from stems. My mother would wash, dry, chop, and prepare packages to freeze for use throughout the year. The process for storing such big quantities can be very time consuming. We are a big family with the need to store large quantities of Mulukhiyah. For those who grew up eating this dish know it is well worth the effort.
Mulukhiyah is a popular dish across the Arab world with cooking methods that differ from one region to another. Within Palestinian cuisine there are many different ways to cook Mulukhiyah. A popular version is cooked with rabbit meat that originated In Egyptian.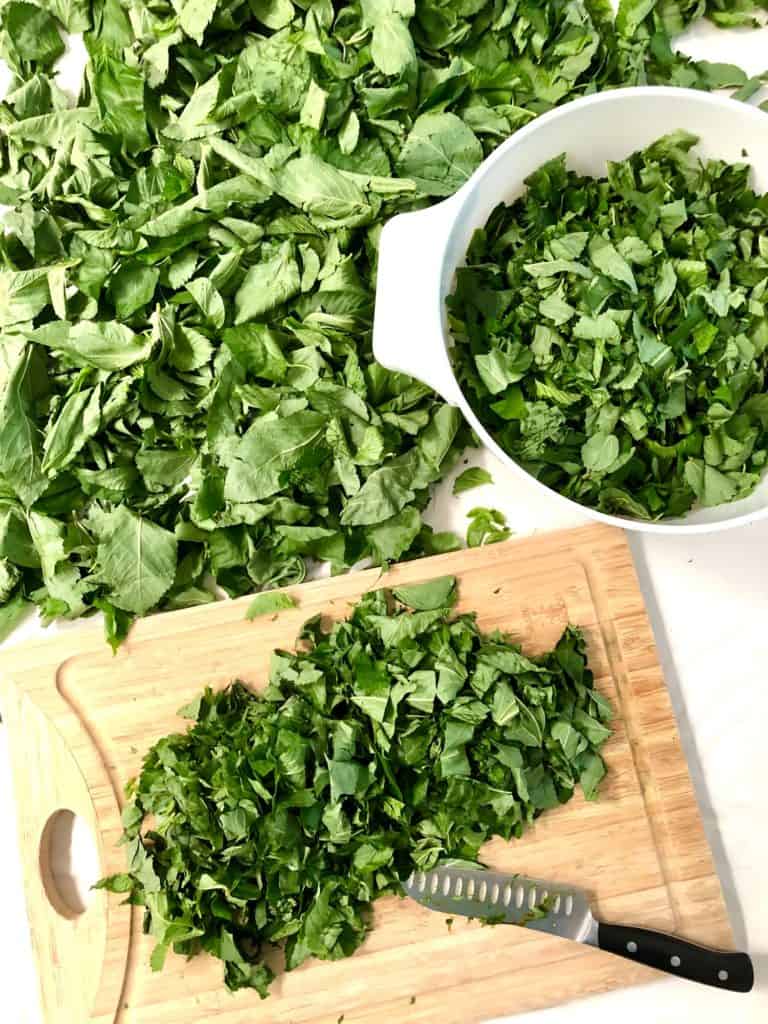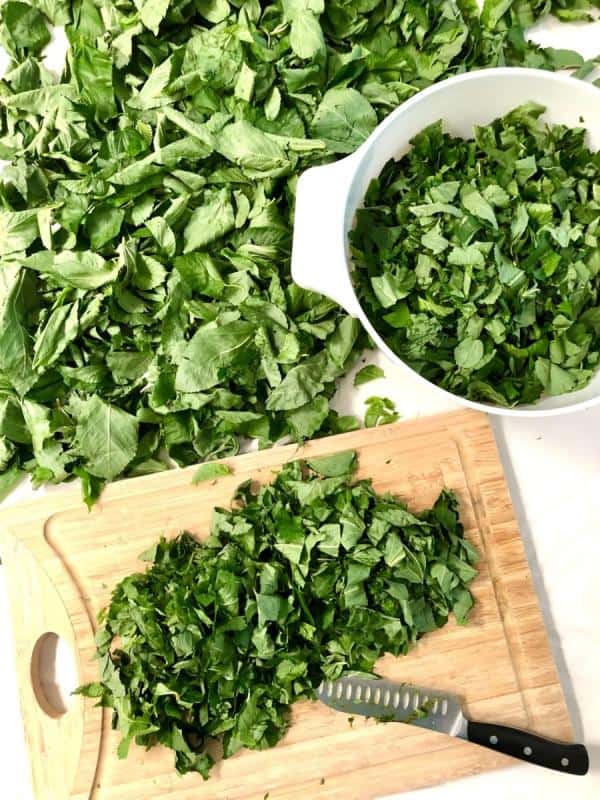 Fresh Mulukhiyah leaves are hard to find outside the Middle East. However, I'm lucky living in California I can find Mulukhiyah at the local farmer's markets.
How to prepare Mulukhiyah for storage: Two options.
Drying
Once Mulukhiyah leaves are picked it's important to clean them well. Usually I fill up my sink with water dump all the Mulukhiyah leaves in the sink soaking gently. Once clean take them out without crushing the leaves. Place the leaves in a large colander repeat this washing process two more times. Drain the Mulukhiyah leaves in the colander for 15 to 20 minutes until water has drained thoroughly. Alternately you can use a large salad spinner to remove the moisture.
Once drained place the leaves on a large sheet cloth, leave to completely dry before chopping. Drying could take up to three to four hours to completely dry. Another option is to place all the leaves in a clean pillow case, close tightly with a rubber band place in your washer to rinse.
Freezing
Mulukhiyah leaves need to be completely dry before chopping, if not it will be difficult to chop. Hand-chopped Mulukhiyah leaves, I do not recommend using a food processor, this step shouldn't take to much time the leaves only need a rough chop. Once chopped stack in zip lock bags and place in the freezer. Frozen Mulukhiyah can last about a year.
Cooking Mulukhiyah A Classic Middle Eastern Dish
Mulukhiyah primarily cooked as a thick stew with meat or chicken broth and served with rice on the side. However, in Tunisia and Morocco Mulukhiyah is crushed finely and mixed with beans. An old Palestinian vegan recipe very similar requires using dried Mulukhiyah leaves mixed with dry fava beans called bissara.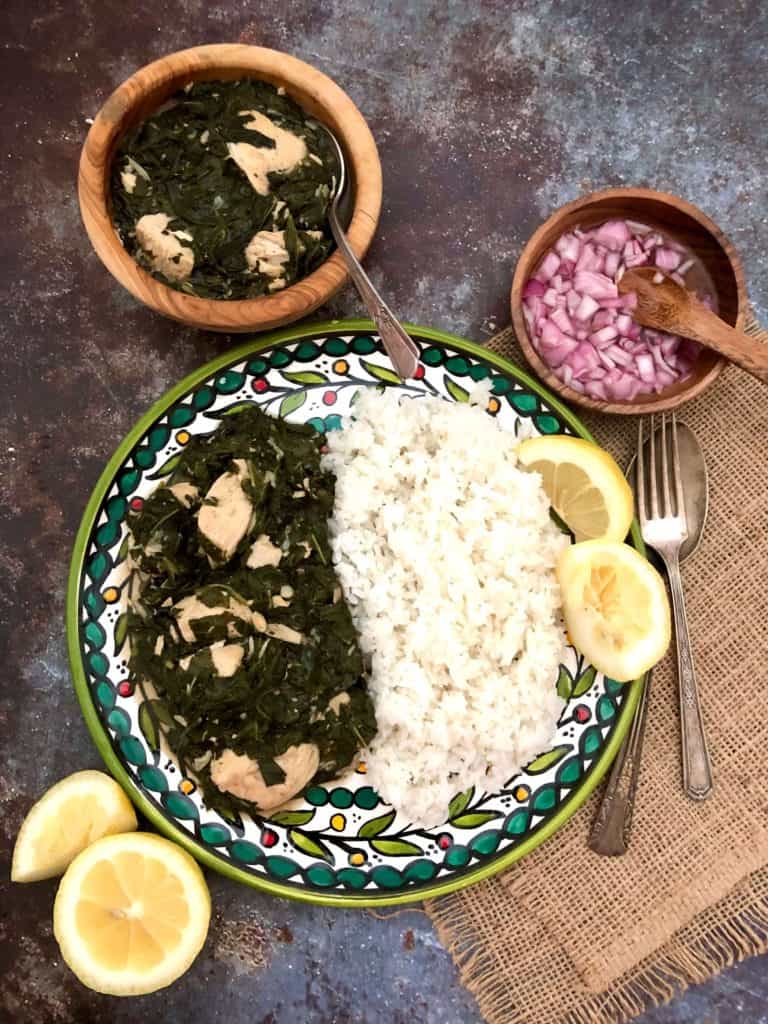 Print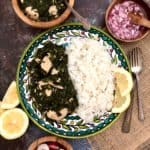 Mulukhiyah Classic Middle Eastern Dish Popular Across Arabia
Author:

Prep Time:

30 minutes

Cook Time:

30 minutes

Total Time:

1 hour

Yield:

4

servings

1

x

Category:

Entrees

Method:

Stewing

Cuisine:

Middle Eastern
---
Description
Mulukhiya ملوخية, also known in English as "Jew's Mallow", A green leafy vegetable a classic middle eastern dish very popular across the Arab world. Originating in Egypt thousands of years ago , during the era of Pharaohs. Pharaohs would eat Mulukhiya for its great health benefits. This recipe is featured on The Markaz Review
---
1

whole chicken cut into

4

pieces (skin out).

1

onion cut into

4

wedges

3

-

4

cardamom pods

water (about 1.5 liters)

Mulukhiyah leaves (about 6 cups freshly cut or 3 cups frozen)

8

-

10

garlic cloves crushed

2 tablespoons

olive oil or ghee (or mix half of each)

1 teaspoon

allspice

salt

fresh lemon juice for serving
---
Instructions
How to prepare chicken broth:
Place chicken in a large pot, add onion wedges and cardamom pods. Add enough room temperature water to just cover everything.

Bring to a boil over medium heat, then reduce to a simmer.

Skim off the foam that accumulates on top and discard. You may need to do this several times during the cooking process. Simmer for up to an hour.

Once the stock is ready and the chicken is cooked. Take the chicken out and set aside until it has cooled enough to handle.  Use your hands to debone and cut the chicken into pieces. Set aside cut chicken, place back over the stock. Onions and cardamom pods can be tossed at this point.
For the mulukhiyah:
Add mulukhiyah over stock and chicken, stir everything well together. Once it starts boiling turn it to medium-low let simmer. To prevent fresh mulukhiyah from turning slimy, add one tomato chopped in half (tomato only if using fresh mulukhiyah, toss before serving).

Let the mix simmer about half an hour, add salt and allspice.

While mulukhiyah is simmering, place olive oil and gee in a skillet.  Add crushed garlic, and sauté for a couple of minutes until garlic just turns light golden brown. Add this mixture to the mulukhiyah stew, and stir thoroughly. Taste for seasoning and adjust to liking.

If you like the mulukhiyah soupier, you can add a little more broth. Serve with rice and lots of lemon juice on the side. Some like to add chopped onions dipped in vinegar in lieu of fresh lemon juice. Mulukhiyeh often pairs well with radishes and green peppers on the side.

If you have frozen mulukhiyah you can follow step 1 and it doesn't need to be defrosted.
---
Notes
While storing mulukhiyah can seem overwhelming and requires some work, the cooking method can be very easy. 
Mulukhiyah is cooked with either, beef or lamb chunks, or with chicken. The steps are similar, which requires cooking the meat and stock first then add mulukhiyah leaves.
Keep in mind cooking time varies depending if it's cooked with meat or chicken. Beef, and lamb in particular takes longer to cook than chicken.
Keywords: Mulukhiyah, Jew's Mallow, Jute Mallow, Tossa Jute, Molokheyya, Molokhia, Mulukhiyyah, Mulukia, Fesh Mulukhiyah, Palestine Mulukhiyah