Vegetable stews are very common in Palestinian dishes; we make a stew with almost every vegetable. The basics are almost the same, which consists of meat, meat broth, the vegetable and of course specific spices that goes with every dish. Usually, the stew is served with a side of rice. It is a complete meal, that consists of protein, vegetables, and carbs.
Today, I'm making a cauliflower stew. My childhood memories of this dish is that my mom used to cook it during winter, the season for cauliflower. We would eat it on a cold winter day, the hot stew warms your heart in the cold weather. However, nowadays cauliflower is available all year long.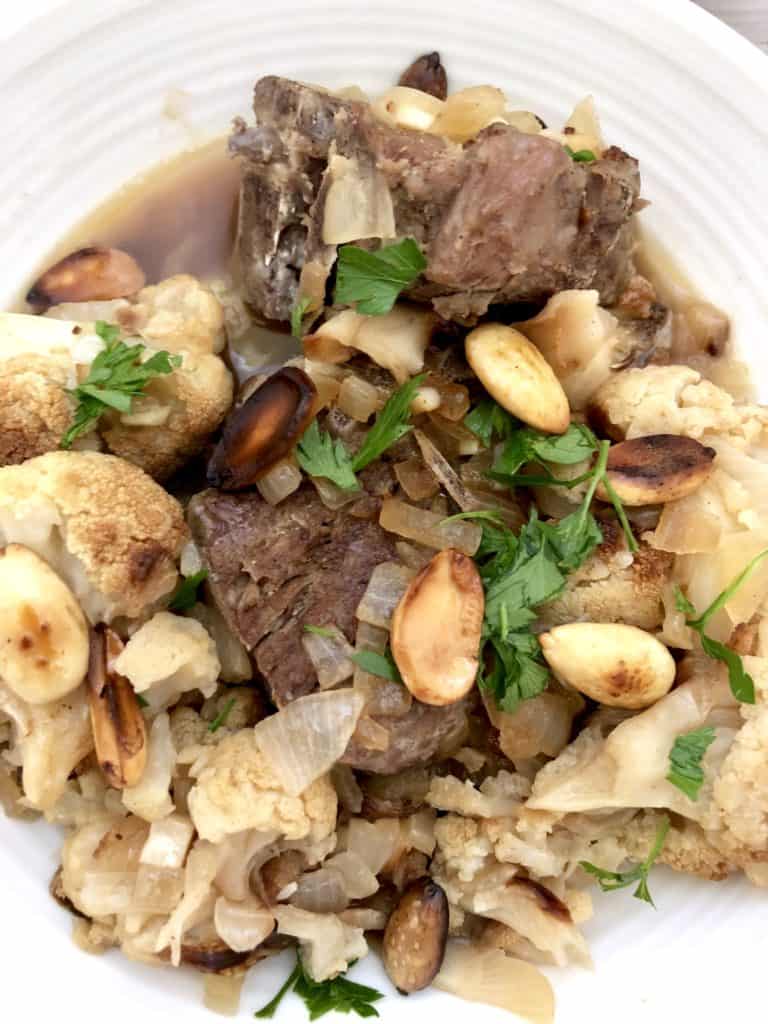 I grew up eating lamb, my mom always used lamb with most of meat dishes. Up until today, she doesn't like to use beef. Lamb is more popular for most Palestinians. It has a distinct rich flavor that adds up to the food. Beef can certainly be used if one prefers it over lamb.
However, it is a meat dish, but it doesn't mean if you are vegetarian or refraining from eating meat, you cannot make this dish without meat. You certainly can! I have done it in the past when I turned vegetarian for a few years. And, it can still turn tasty. All you need to do is skip the meat part completely and substitute the meat broth with vegetable broth.
So the first step for making this dish is to separate cauliflower into big to medium florets pieces. Mix florets with a drizzle of olive oil, salt, and cumin powder and spread them into a baking sheet. Grill in a heated oven for about an hour. My mom used to deep fry the florets prior to cooking, but she switched –for a healthier option- into grilling instead. Trust me it doesn't make much of a difference, the dish will still turn good.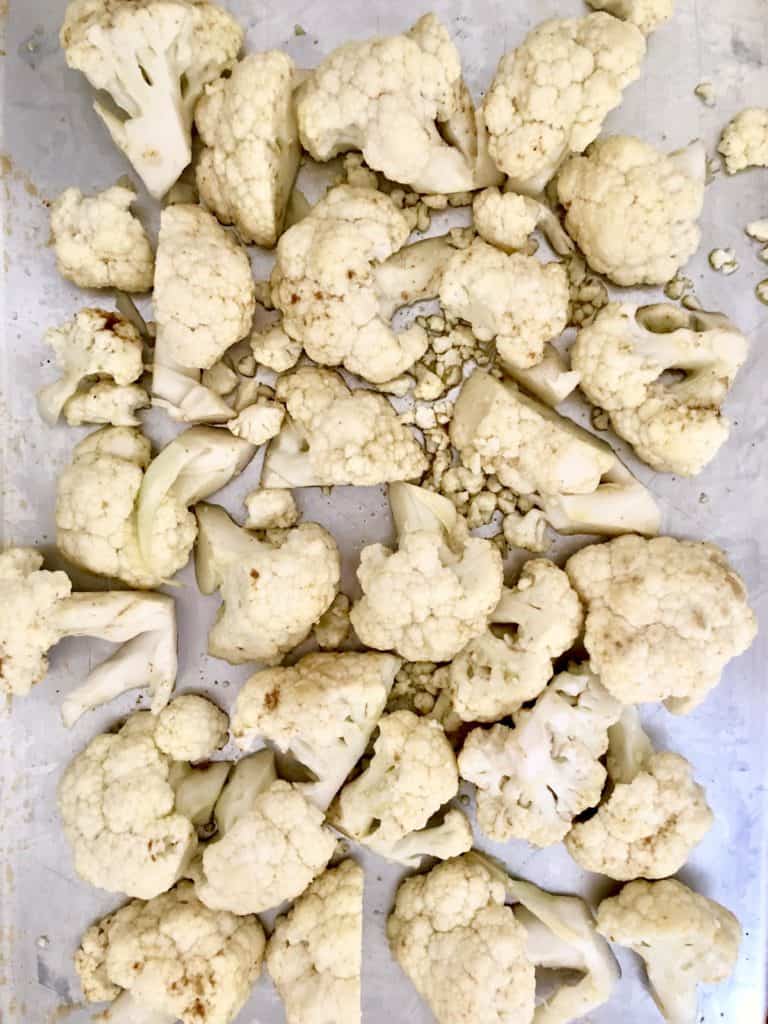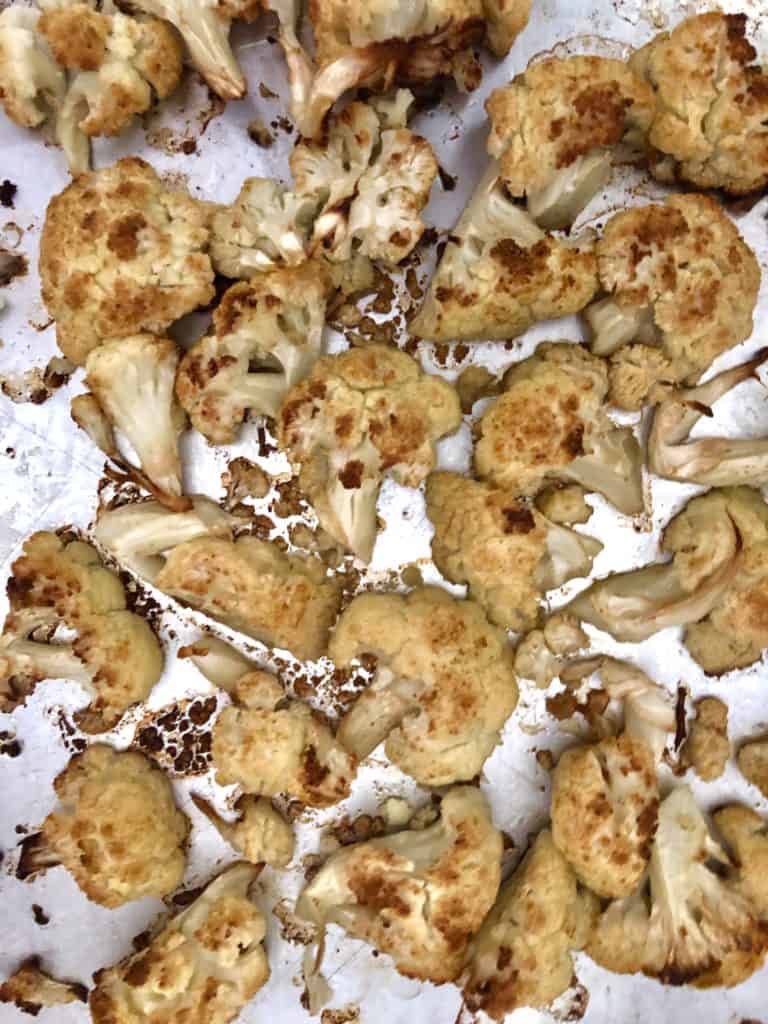 After the grilling is done set the cauliflower aside. You can even have them grilled the day before.
With any stew, usually the meat is cooked separately first, then the vegetables are added later. And in this case, I'm using chunks of lamb. For a tender meat results, lamb usually takes longer to cook. To save on time I like to use the pressure cooker. If you don't have one, you can use a regular pot, make sure it's fully covered with water, and let it boil until the meat is tender. It may take about an hour.
Before boiling the meat I usually like to saute it with vegetable oil and some spices. The spices with sauting the meat takes away any stinkness that normally comes with uncooked meat (A pinch of salt and allspice all you need). Then I cover half of the pot with water on high heat, once the pot starts boiling (you can hear a loud steam noise coming out) keep it on for 30 minutes. After 30 minutes turn the stove off (if you've never used a pressure cooker, make sure not to open it until it cools off, I'd give it 15-20 minutes.).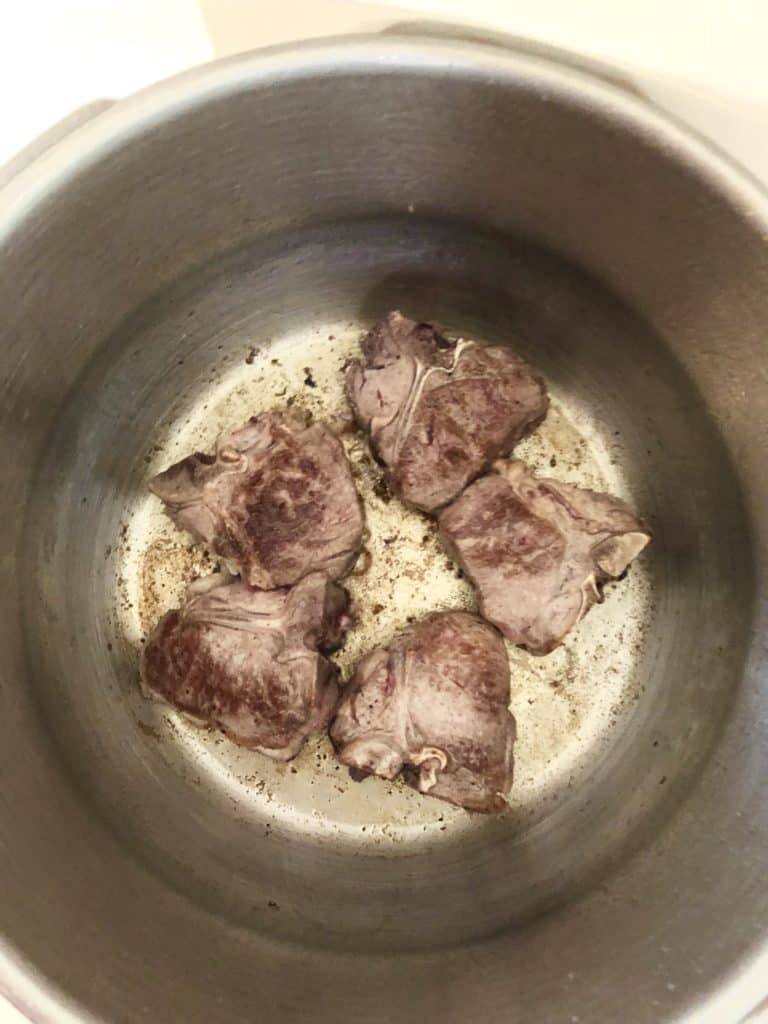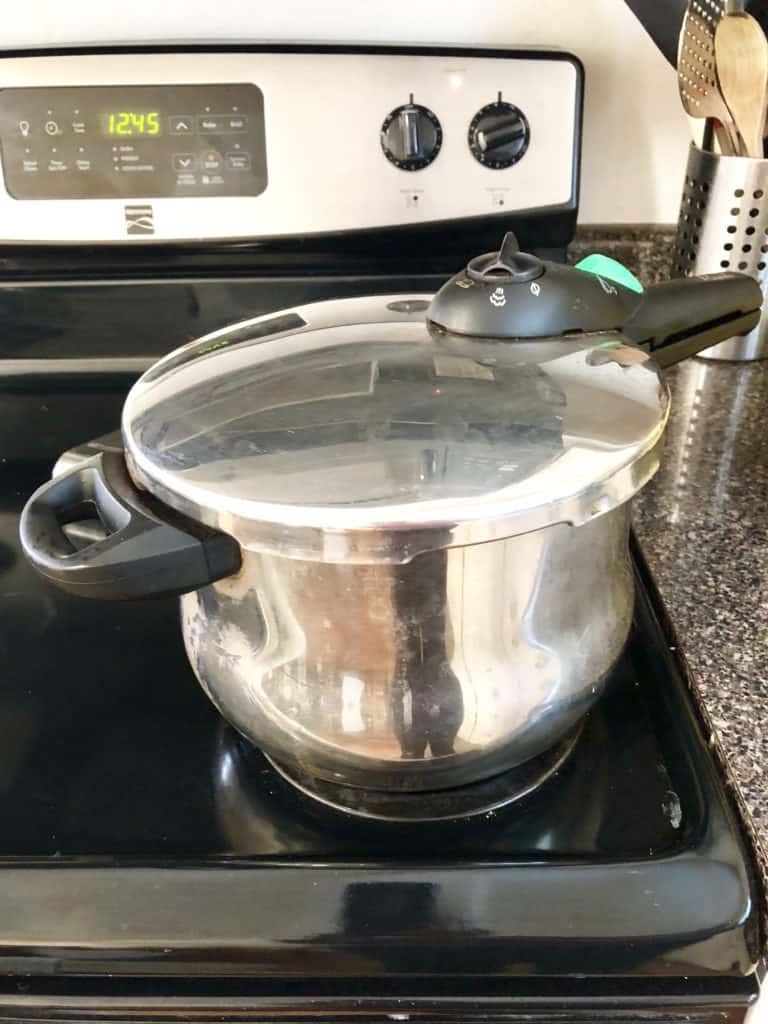 Small pieces of meat can be used, which will take less time in cooking.
In a separate pot, arrange cauliflower florets, meat and about one to two cups of the meat broth. Same pot can be used but you may have to take some of the broth out if you end up with a lot of broth left. Add salt and cumin and let it boil on a low heat altogether for 4-5 minutes. Make sure not to overcook it. Remember that the cauliflower and meat are already cooked, all it needs a slight cooking for the mix to integrate together.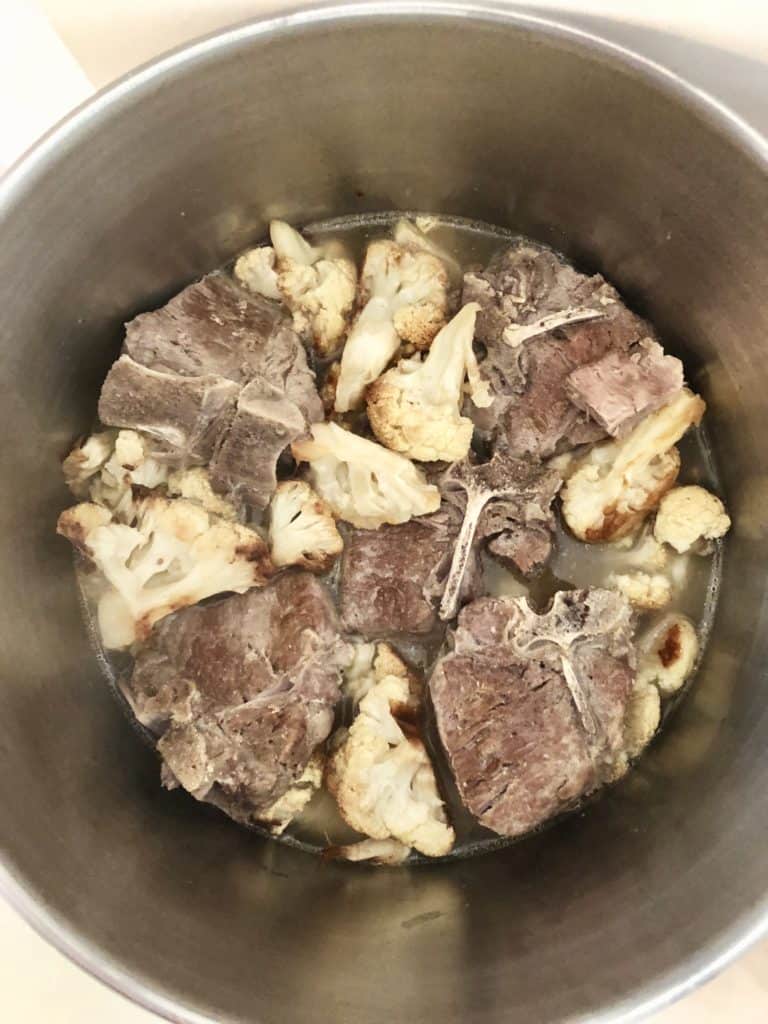 Meanwhile, in a small skillet heat vegetable oil or butter add chopped garlic and onions, saute until they are golden brownish and pour them into the cauliflower pot. Cover and let it boil for another 2 minutes.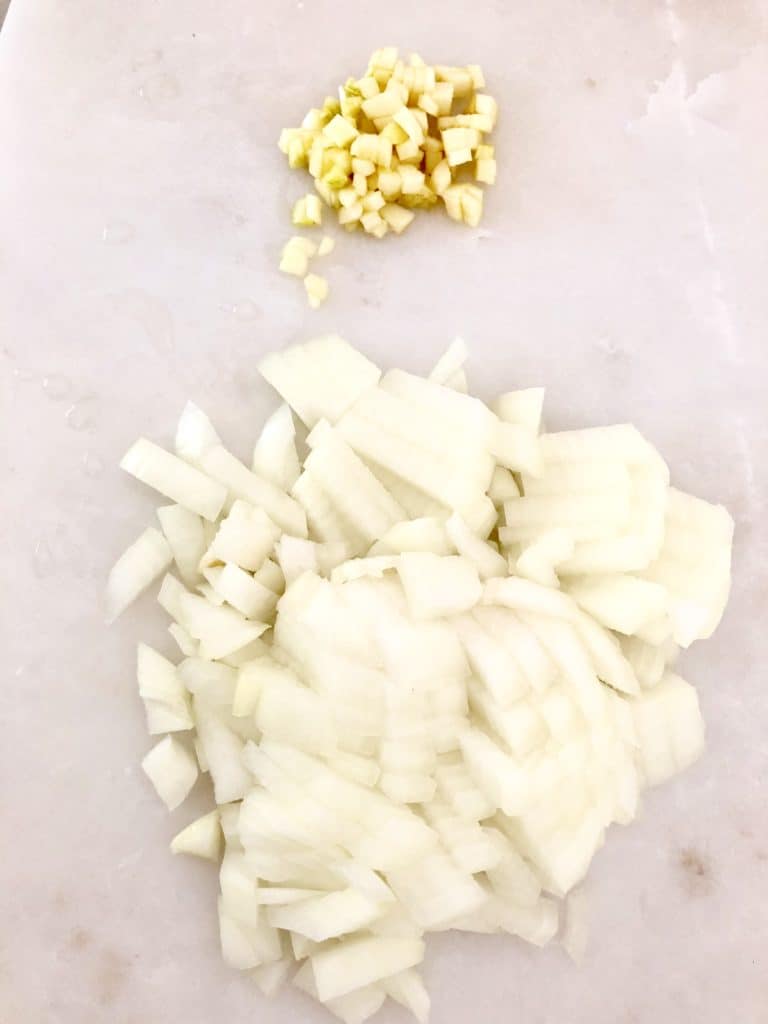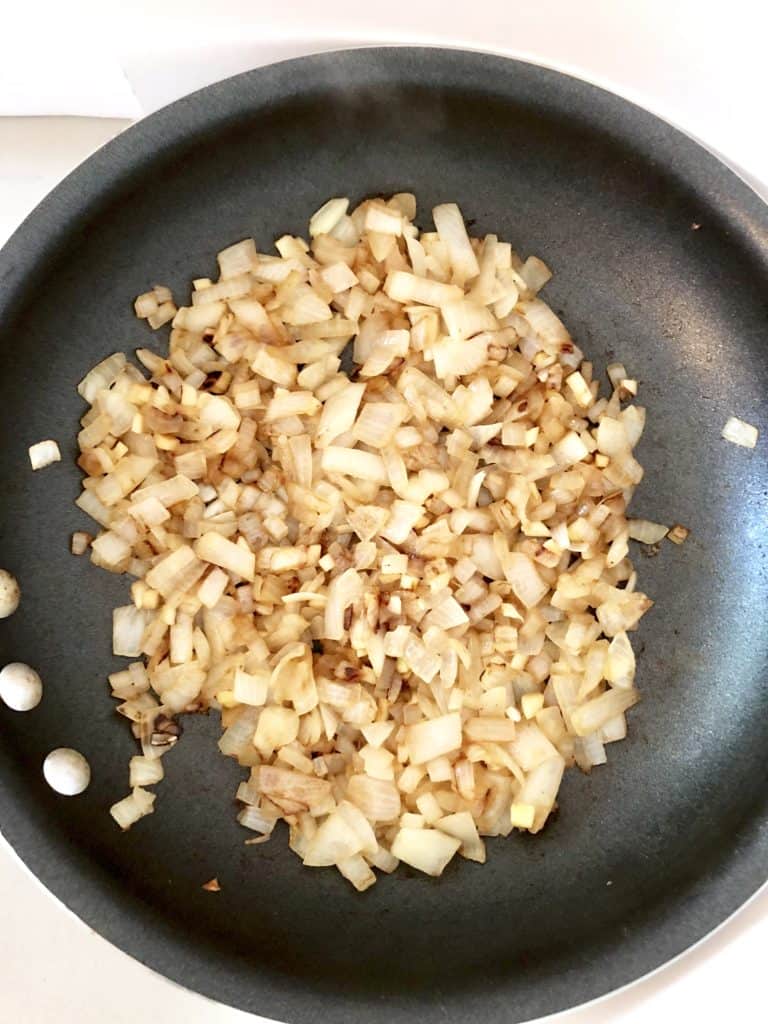 Serve hot with a side of rice. Adding freshly squeezed lemon once served is highly recommended. I also like to eat radishes and olives along with this dish.
Ingredients:
1 pound chunk meat (lamb or beef)
1 medium size cauliflower
4 to 5 cups of water
1 tablespoon olive oil
2 teaspoons cumin powder
3 cloves garlic, finely chopped
1 medium-size sweet onions (chopped)
2 tablespoons butter or vegetable oil
Pinch of allspice
Directions:
Separate cauliflower into florets, sprinkle olive oil, salt, and cumin and spread in a baking sheet.
Heat oven on 400 degrees, and bake cauliflower for about 45 to 60 minutes, until they turn golden brown.
Heat vegetable oil in a pot, add meat and sprinkle salt and spices (allspice). Saute for 2-3 minutes. Then add 4 cups of water. Let it boil until meat is tender and fully cooked.
Place cooked meat chunks, grilled cauliflower florets, about 1-2 cups of meat broth, salt and spices in a separate pot and let it all boil for 3 minutes.
Heat vegetable oil or butter in a separate skillet, add onions and garlic. Saute until their golden brown. Pour over the cauliflower-meat mix, continue to boil for another 2 minutes.
Serve hot with a squeeze of lemon, and a side of rice.