Foul is a staple food not just in Palestine, but also across the Middle East, it's a cheap popular healthy dish. The fava beans themselves are known to carry the highest amount of protein within the beans family. It's also high in fiber and other nutrients. And best of all a vegan dish for all the vegan lovers.
Growing up we often used to eat this dish on a Sunday, when everyone in the family is off, my late dad used to love to make it, and it was always the best. Foul moudammas requires lots of fresh garlic, lemon juice and olive oil. And it's usually served with bread. Where you dip the bread in the fava beans, a term called ghames in Arabic. Foul is often associated with hummus to add to the table for breakfast. So a traditional breakfast such as this would include hummus, foul, tomatoes, olives, green onion and lots of bread and olive oil.
During the time I worked in Palestine, a group of co-workers would order foul and hummus for breakfast, and we all sit or stand around the table sharing this delicious breakfast. It's something Palestinians often do not only at home but also at work. Foul is like so many other Palestinian dishes, more enjoyable to eat in a group, whether it's family, friends or even your co-workers.
Abu Emad is one of the most popular foul places in Ramallah, he is known to make the best foul. It's a family owned business and the place is still running in old town Ramallah.
So here is how to make foul moudammas: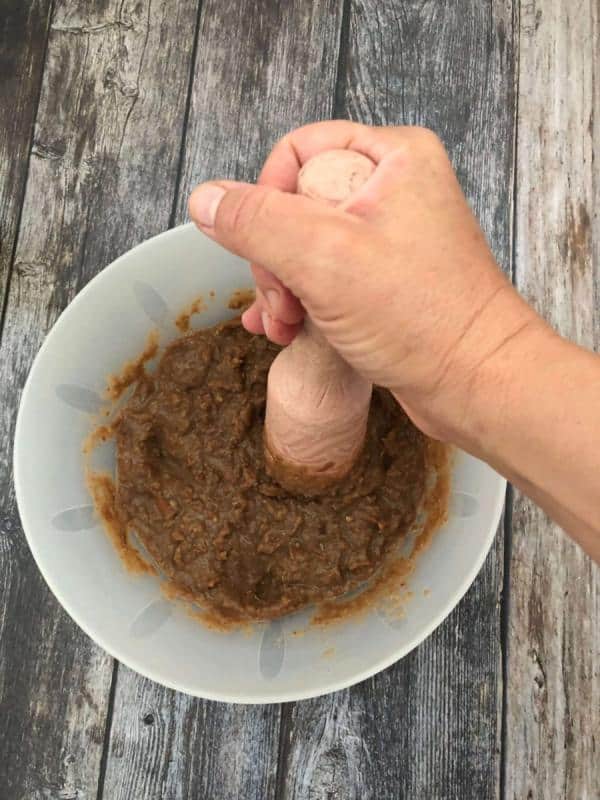 As much as I prefer not to use canned food, however, with fava beans I use the canned ones, I did try to use the dried beans once, and they didn't cook well, the skin was very chewy and the inside was very soft, so it wasn't a good consistency. It maybe the dry beans themselves that I got at the time. And since I don't make them often, I've been using the canned one's every time I make them, and they're always available in my cabinet.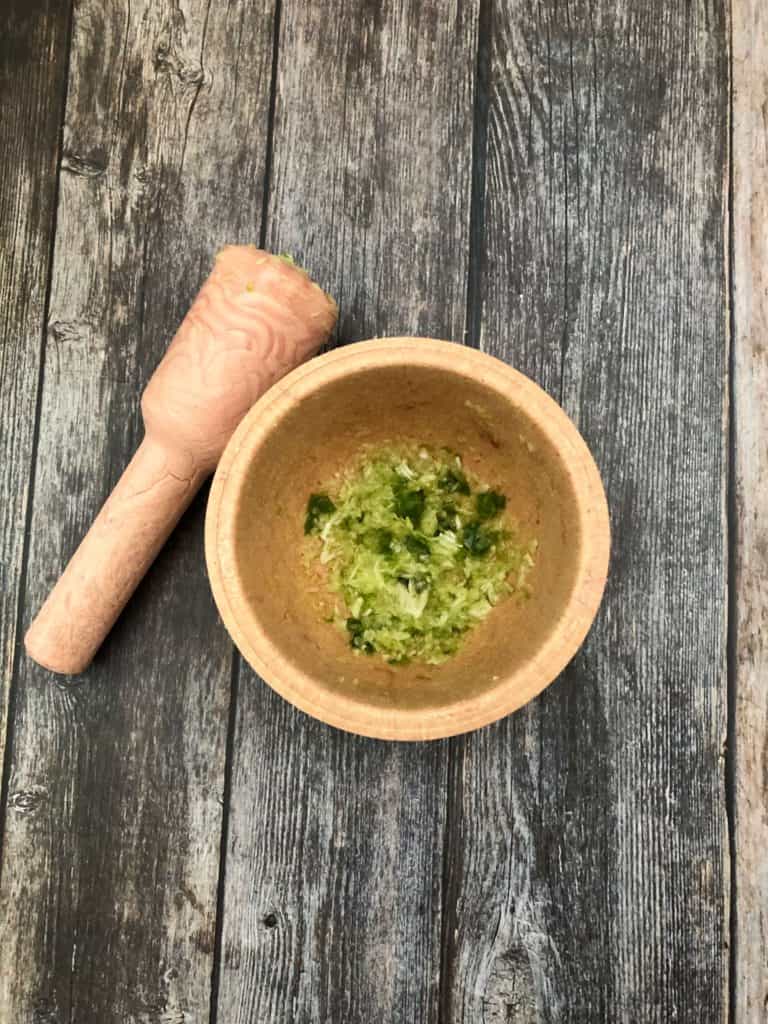 Foul is available at all Middle Eastern markets, watch out that there are some mixed already with garlic, or hummus. I prefer to use the fava beans only without any mix. Once I open the can I rinse the beans well and wash with fresh water to get rid of any canned residue.
Place the beans in a pot and add about half a cup of water and place on the stove on high heat, let it boil for 2-3 minutes, then turn off the heat and with a garlic or potato masher try to soften the beans with the water until they're fully mashed, the beans should be pasty, not so liquidy, adjust water as needed in order to get a pasty consistency. Now some would like to do a different version of foul which is to keep the beans un-mashed.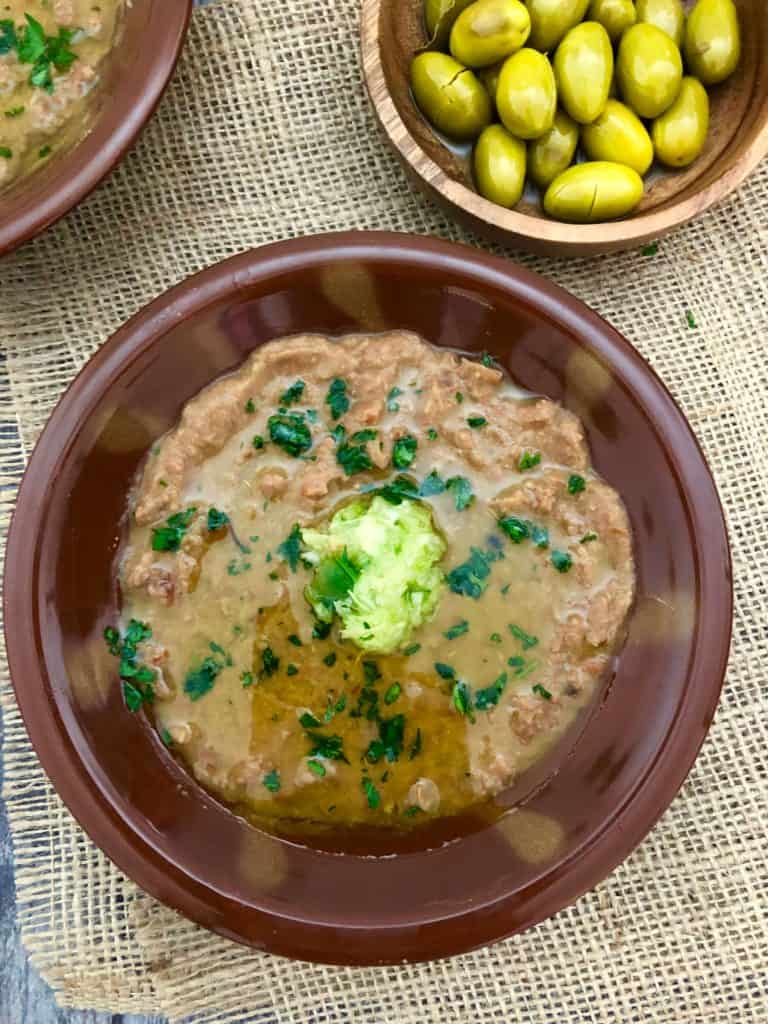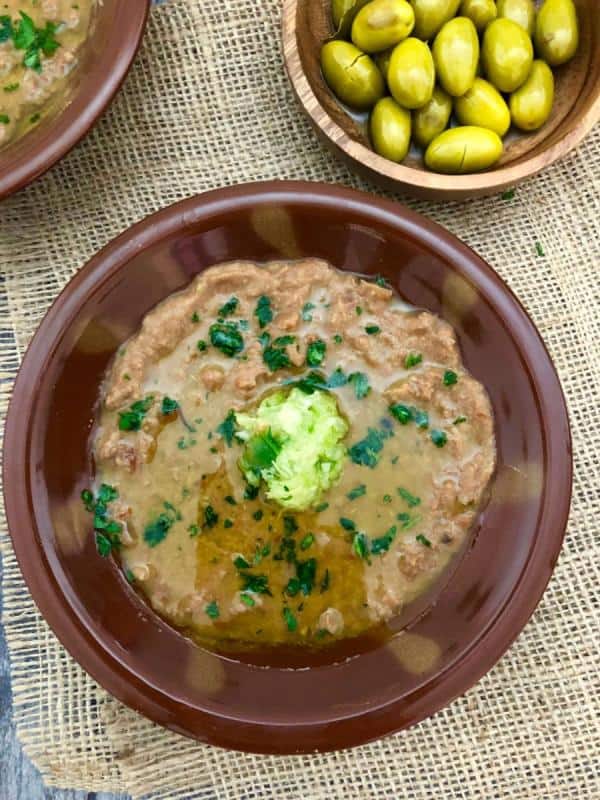 Meanwhile, mix lemon juice with crushed garlic crushed chili pepper (optional) and salt, this is called da'ah. Adjust da'ah to taste, I love my foul to be sour with lots of garlic. Pour da'ah over the beans and mix well. Decorate with parsley and more da'ah on top. Then the most important part of foul is pouring lots of olive oil over it, the best part is when you're dipping the bread into the foul and the olive oil is dripping from all sides, yum. Served with bread, olives, tomatoes and green onions.
This recipe is enough for 2 people.
Print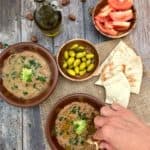 Foul Mudammas (Fava beans) فول مدمس
---
1

can fava beans

½ cup

of water

1

juice of a lemon or more (adjust to taste)

2

-

4

garlic cloves crushed

¼

of a jalapeno or chili pepper (optional)

salt

olive oil

1 tablespoon

of parsley to garnish (optional)
---
Instructions
Open fava beans, wash and rinse well.

Place fava beans in a pot, add water and bring to a boil.

In a separate bowl pour fava beans with water and mash well until all beans are softened.

Mix da'ah: fresh lemon juice, crushed garlic with pepper and salt, pour da'ah over foul and mix well. Adjust to taste.

Pour olive oil on top and garnish with parsley

Serve with khubez (Arabic flatbread).
---