It was the tradition at our house that my mother would start the year by cooking a green dish. Since green is associated with abundance. Not just the abundance of money, but also abundance of health, peace, and happiness. So following this tradition that was common at our house, today I decided to make a spinach stew in the first day of the year. Happy New Year to you all!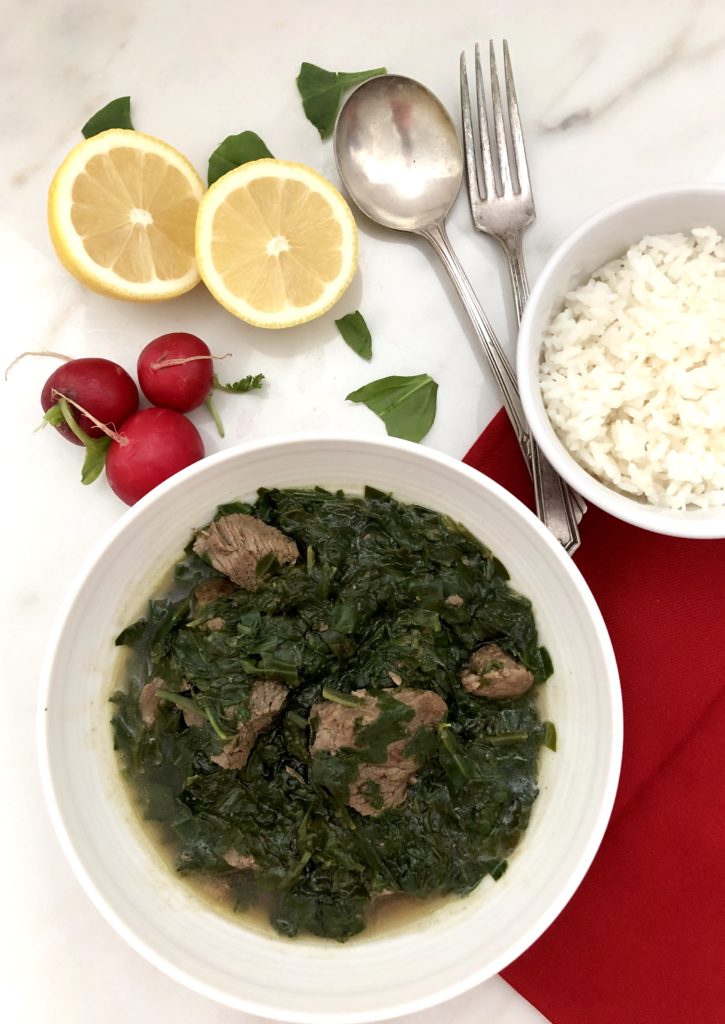 Stews are very popular within the Palestinian cuisine, and spinach is known of a winter vegetable, although nowadays as many other vegetables, is available throughout the year.
Here is how to make a spinach stew. As the case with most stews, we start by cooking the meat. In this case, I'm using lamb, beef can also work if one prefers the later. Sauté onions in vegetable oil until they're golden. Cut the meat into squares and sprinkle salt, nutmeg and allspice, add over the onions and continue to sauté all together and until the color change from red to more brownish. That process helps to give the meat and extra flavor before boiling.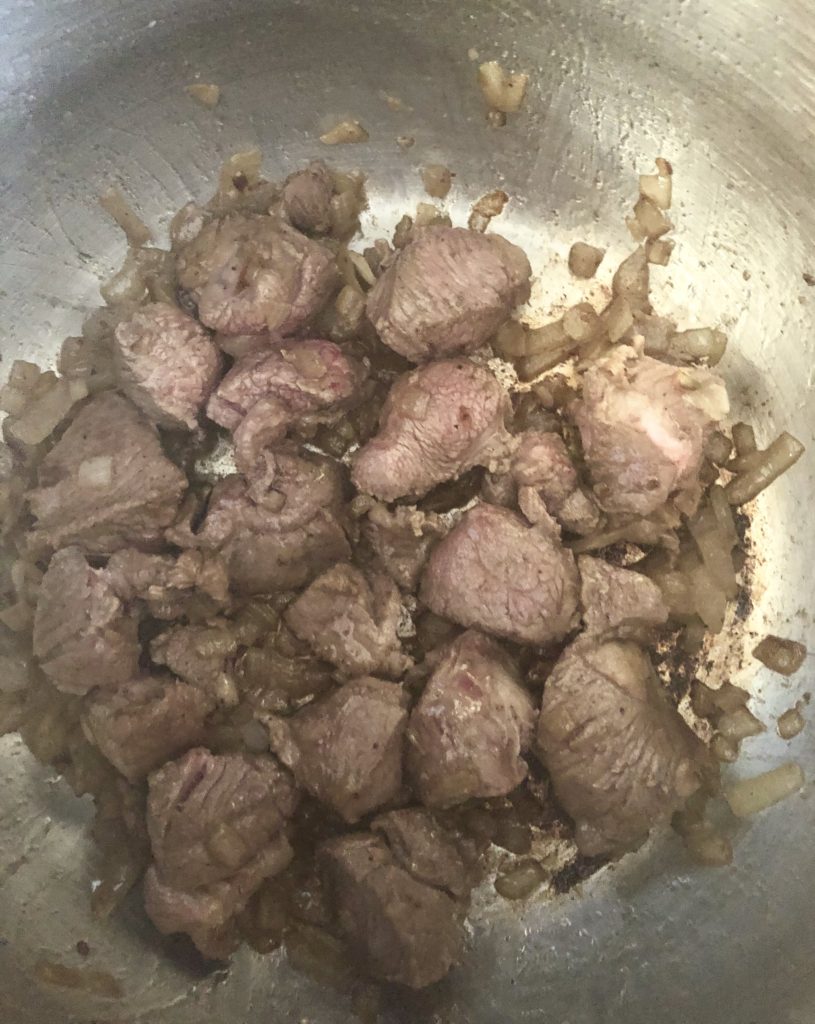 I highly recommend the pressure cooker to cook the meat, especially lamb which takes much longer to cook. Cover the meat with about 4-5 cups of boiled water seal the lid and let it cook. (once you hear a loud steam noise coming out from the pressure cooker which is an indication that it's boiling), set the timer on for 30 minutes. After 30 minutes turn the heat off (if you've never used a pressure cooker before, make sure not to open the lid while it is still hot). Let it cool off for about 10-15 minutes before opening.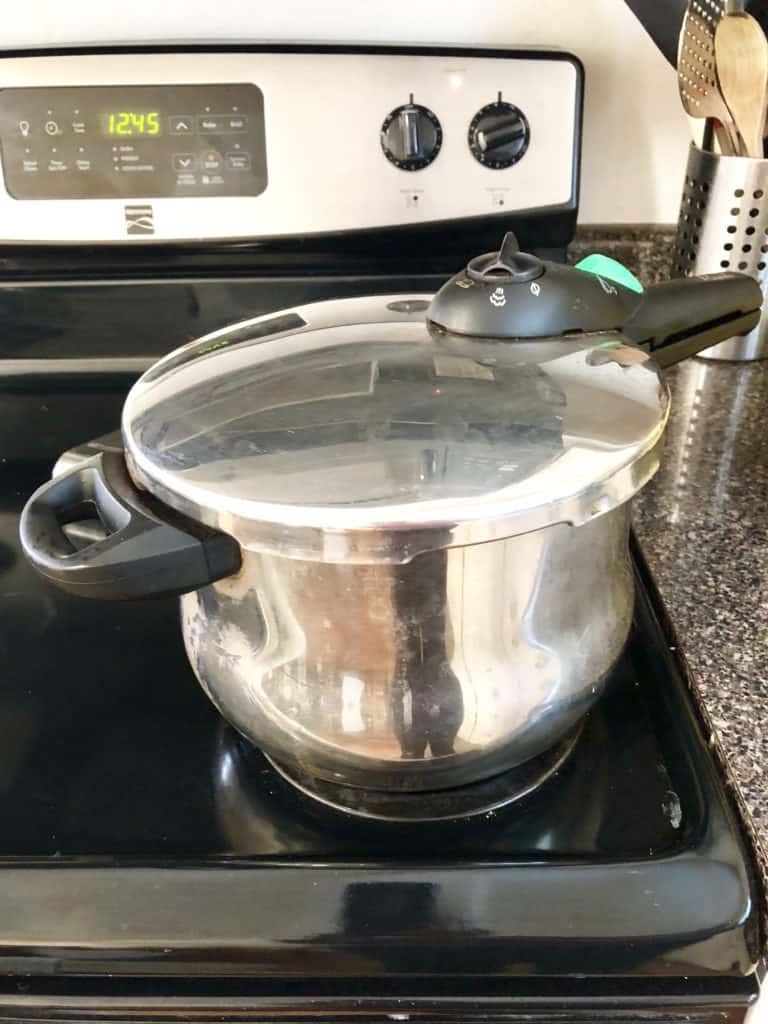 If you don't have a pressure cooker it certainly can be cooked on a conventional pot, but it may take about an hour and a half to 2 hours for the lamb to be tender. Beef might take less time.
Meanwhile, cut spinach and have it ready. We are lucky in this country that we can buy spinach picked and washed and ready for use. This step saves a lot of time from buying the spinach with stems that first needs to be picked which also requires a lot of washing. The process that I remember my mom used to go through while cooking this dish.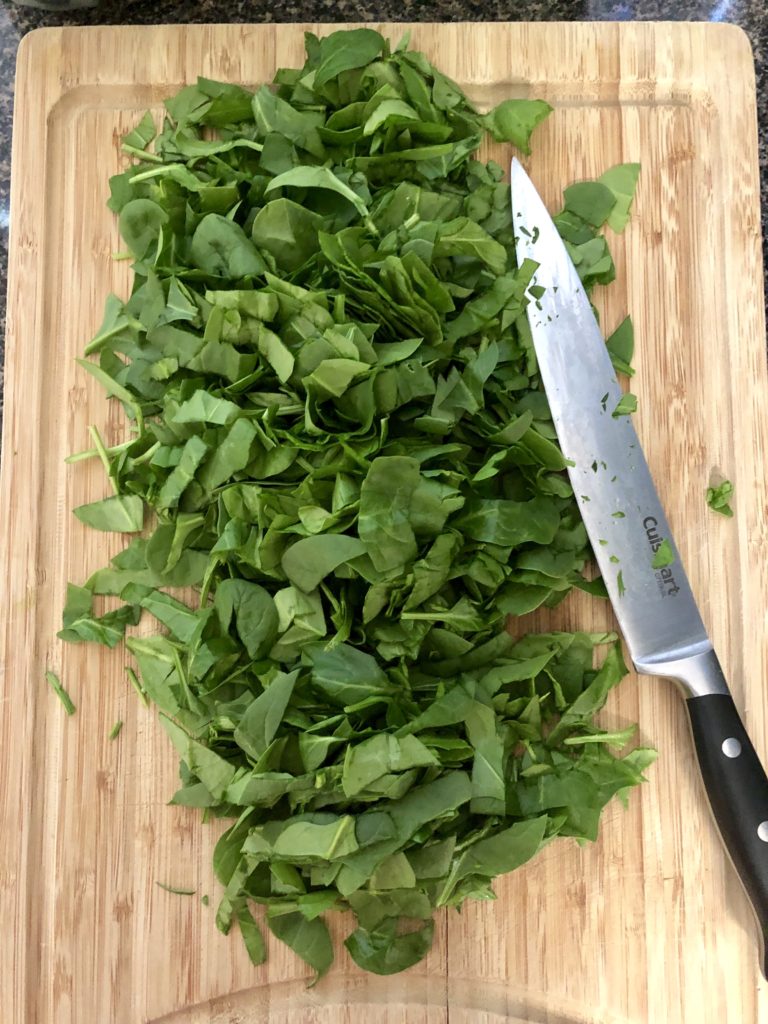 Once pressure cooker is cooled off open the lid, take meat broth out and only keep about a ½ cup of the broth. There will be more water coming out of the spinach while cooking, you don't want to end up with a soupy dish versus a stew. (the extra broth can be frozen and used with other dishes or soup). Adding that much water early on is required to cook the meat, as while cooking water evaporates so it's always a good idea to have extra water versus the other way around.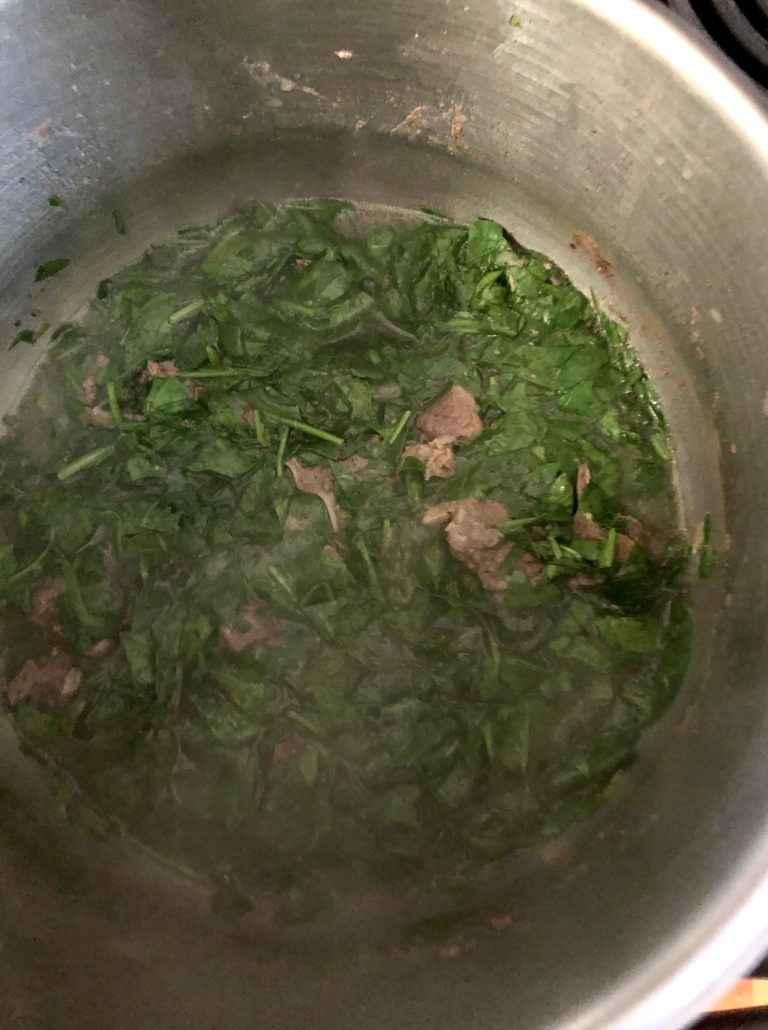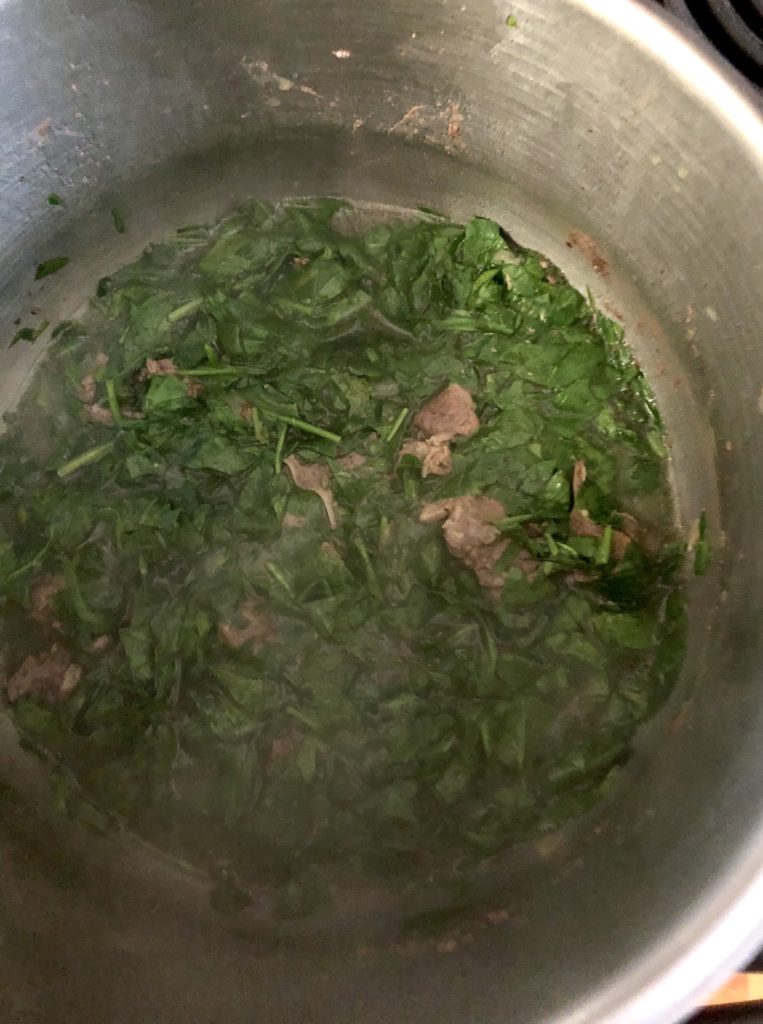 Add chopped spinach to meat and broth, stir everything together and once it starts boiling, turn the heat on low, cover the lid and let it simmer for 20 minutes, spinach doesn't take much time to cook. Then add salt and allspice, please note that spinach absorbs salt so be mindful with how much salt is added.
Serve with a side of white rice and a squeeze of lemon over the spinach.
Serve with a side of rice and a squeeze of lemon over spinach.
This recipe is enough for 3-4 people.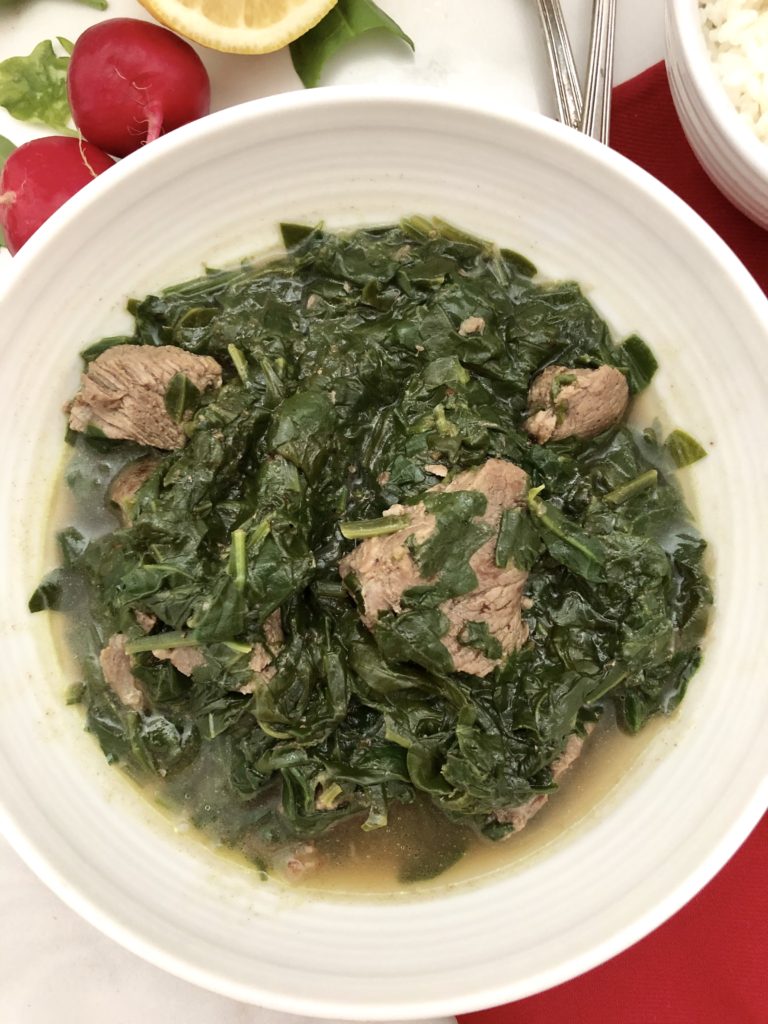 Print Spinach Lamb Stew يخني سبانغ
---
1

pound meat (lamb or beef) cut stew style

1

pound spinach chopped

1

sweet white onion chopped

1 tablespoon

vegetable oil

5 cups

of boiled water

pinch of nutmeg

1 teaspoon

allspice
---
Instructions
In a large pot heat oil, add chopped onions and sauté until golden. Add meat, sprinkle salt, a pinch of nutmeg and ½ teaspoon of allspice. Sauté for about 5 minutes.

Cover the meat with 5 cups of boiled water and let cook, if the pressure cooker is used let it boil for about 30 minutes. Turn off the heat and keep the pressure cooker to cool off before uncovering the pot.

Take out meat broth leaving only about ½ a cup, then add chopped spinach over the meat, integrate everything together and once it starts boiling, lower the heat, cover and let it simmer for about 20 minutes.

Add salt and ½ teaspoon of allspice.
---