Stuffed Artichokes Harts ارض الشكوة على ادامه Stuffed with ground meat onions and spices. Stuffed artichokes casserole is one of the most common artichoke recipes in the middle east.
Artichokes are low in fat while rich in fiber, vitamins, minerals, and antioxidants. Particularly high in folate and vitamins C and K, Artichokes also supply important minerals, such as magnesium, phosphorus, potassium, and iron.
It's early May and artichokes are in season. My landlord/neighbor have artichokes in their backyard. They suddenly exploded calling out to be picked. My landlord generously asked me if I'd like to pick some and do something with them. Artichokes freshly picked, organic, right from the garden, of course, I jumped all over the idea.
I have never really cooked artichokes before. However, my sister has been making them and she happily shared the recipe with me. I had an idea of how to use them but needed some confirmation on the exact recipe which I received from my sister.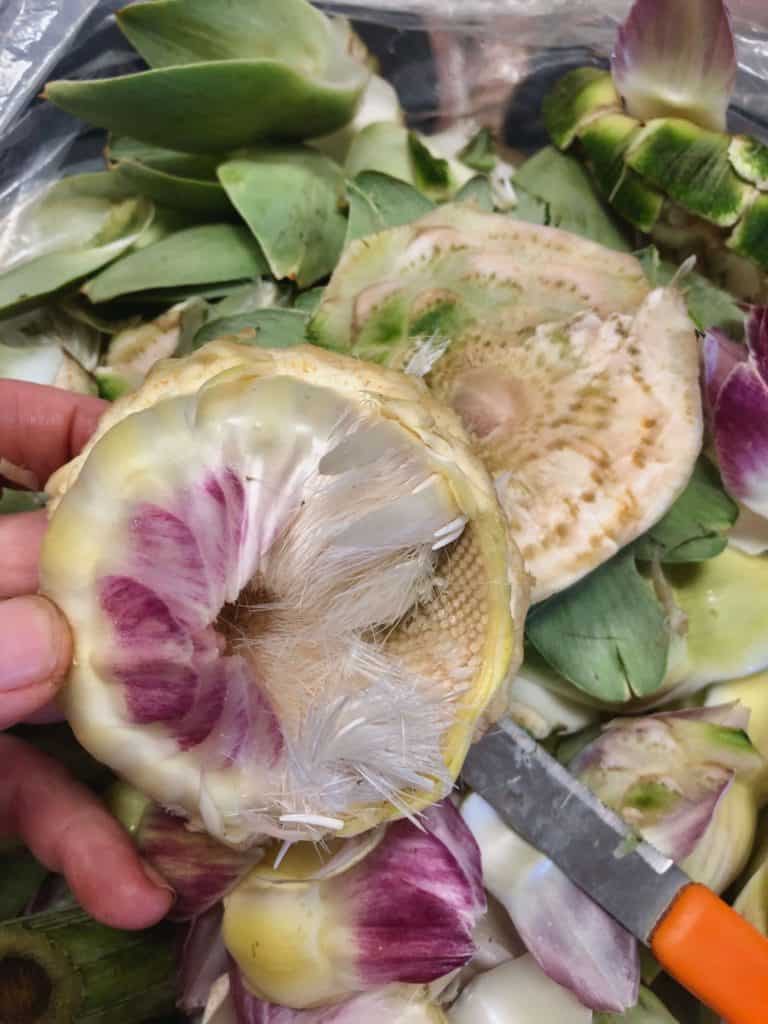 In this recipe only the inside of the artichokes is used, meaning they need to be cleaned from the inside so they will look more like a small ball to be stuffed with meat. Yes, I know it can be a lot of work to clean all the leaves/edges, but trust me it's all worth it in the end.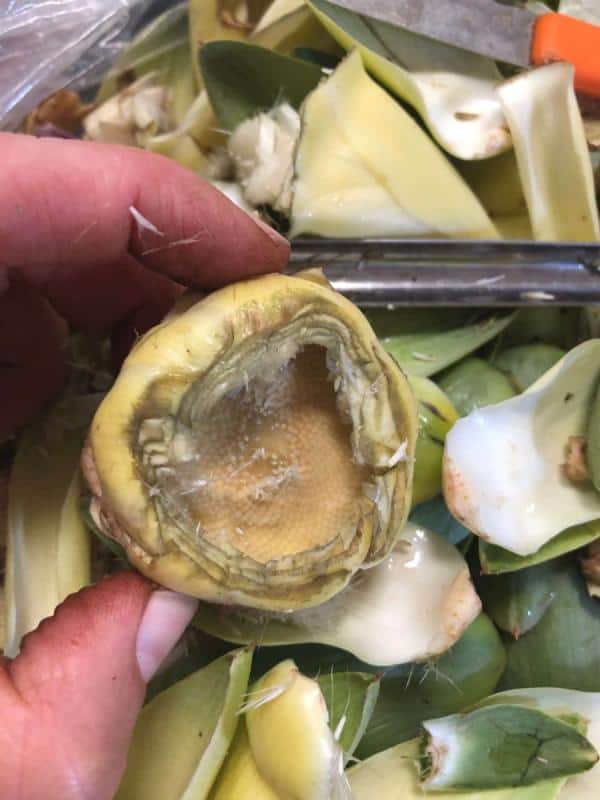 If you don't have fresh artichokes or you don't want to do all the extra work of cleaning them, you can find them frozen in some middle eastern grocery stores. Easy and ready, all you need to do is fry, stuff and bake them.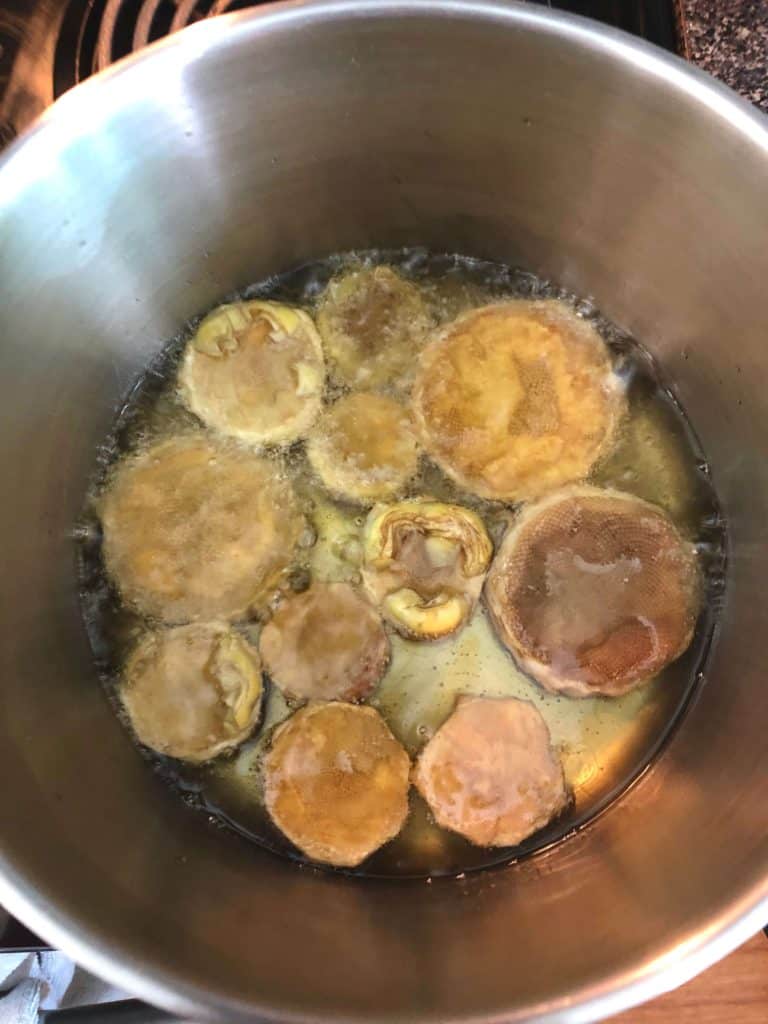 How to make artichokes in the oven:
You start by cleaning the edges of each artichoke, during this step it's very important to keep them in water with lemon. This will keep the color of the artichoke bright and will not get dark. Once they're cleaned, dry them with a paper towel then deep fry them. Fry until they turn brown and set aside.
In a pot, sauté onions in vegetable oil until soft. Next add ground beef or lamb, season with salt, allspice and a pinch of nutmeg and cinnamon. Keep sautéing until the meat is fully cooked. This should take about 10-15 minutes.
After the artichokes are fried lay them in a Pyrex baking dish. With a spoon scoop some of the meat and stuff each artichoke, continue until they all are filled. Pour about a cup of broth, whatever you have, chicken/meat or vegetable over in the baking dish. Cover and place in a preheated oven set at 350 F degrees. Bake for approximately 45 minutes to an hour.
Take the baking dish out the oven and pour in a mix of about 2 freshly squeeze lemon juice with a tablespoon of flour, pour the lemon mixture over the artichokes and place it back in the oven for another 5 minutes, this will give the dish an extra lemony flavor. Salt can be added with the lemon mix if the broth is unsalted. This dish is usually served with a side of rice. You can decorated with roasted pine nuts.
This recipe is enough for 3-4 people.
Print
Stuffed Artichokes Bottoms Baked in the Oven
Author:

Yield:

4

servings

1

x

Category:

Entree

Method:

Baking

Cuisine:

Middle Eastern
---
Description
Stuffed Artichokes Harts ارض الشكوة على ادامه Stuffed with ground meat onions and spices. Stuffed artichokes casserole is one of the most common artichoke recipes in the middle east.
---
½

pound of ground beef

20

-

25

artichoke heads

1 cup

of vegetable or avocado oil for frying

1

onion

2 tablespoon

of vegetable oil

½ teaspoon

allspice

pinch of nutmeg

pinch of cinnamon

1 cup

of broth (chicken, Beef or vegetable)

2

freshly squeezed lemons

1 tablespoon

flour
---
Instructions
Clean artichokes well by peeling the edges first with hands, then around the head with a knife and scoop out the inside well, aiming in a head shape that can be ready for stuffing.

Keep artichokes in water and lemon during the cleaning process to maintain their bright color

Once all artichokes are clean, heat up the oil for frying. Take out artichokes from the water, dry them with a paper towel and dip them in the fryer.

Fry until they're brown, lay them on a paper towel to get rid of all the extra oil from frying
For stuffing:
In a separate pot, sauté the onion with oil until they're golden.

Add ground meat (beef or lamb) salt and the spices, sauté until meat is ready. This will take about 10-15 minutes.

In a Pyrex baking pot, lay all artichokes one next to the other and scoop the meat with a spoon and fill them all up. Continue this process until all artichoke heads are filled.

Pour broth over the baking pot, cover and place in a preheated oven on 350 F degrees, bake for about 45 minutes to an hour.

Pour previously mixed lemon juice with flour over the pot towards the end of the baking period, and place back in the oven for a few more minutes.
---