I am a big fan of salads and perhaps there isn't one day that goes by where I don't eat a bowl of salad. And the days I don't cook, my main meal will be just salad. So therefore, I always try to improvise and mix different combinations of vegetables together.
Lately, I have been so in love with arugula, the tangy slight bitter taste of this leafy vegetable gives it a unique taste. So I have tried this combination of arugula with cucumbers, green onions and avocados and it turned out so good. The only difference with this salad is I like to chop it. I'm all with making a quick salad and most of the times when I'm hungry I don't like to consume time and chop. However, certain dishes require chopped vegetables and this one in particular, I thought light chopping will make a difference in the taste.
So here is how to make arugula salad with cucumbers and avocado:
Chop arugula not necessarily too small more of medium size, chop cucumbers about cubes size, chop avocado similar size and then green onions. I also like to use Persian cucumbers and they are available at most grocery stores these days, we grew up eating them in Palestine and I feel they taste much better than the American cucumbers. Give them a try if you've never had them!
As for the dressing, I always use the same traditional dressing which I really really love, it consists of fresh lemon juice, extra virgin olive oil, and salt. Not only it's fresh and healthy but also tastes really good. And, I also like my salad to be a little sourer so I do add extra lemon and love the extra olive oil as well.
Pour dressing over the vegetables and mix all together. This salad is really good with grilled chicken or salmon on the side or even on its own.
Here is how to make arugula salad with cucumbers and avocado in more details:
Print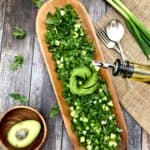 Arugula Salad with Cucumbers and Avocado
---
2 cups

arugula lightly chopped

2

-

3

chopped Persian cucumbers

1

small chopped avocado

4 ounces

chopped green onions
Dressing:
1

lemon juice

2

-

3

tablespoons extra virgin olive oil

salt
---
Instructions
In a large bowl mix arugula, cucumbers, avocado, and green onions.

Pour in the dressing,

mix separate or one at a time over the bowl of vegetables.

Mix all well together.
---