When I was in my late teens I was so impressed with my ability to bake a simple plain cake without following an exact recipe. My mother never really allowed any of us (all three daughters) to be involved in any of her cooking.
However, I was allowed to bake a cake, so I kind felt like I owned this project and it was exciting to be able to accomplish such thing on my own. And my cakes always turned out to be so good.
My youngest brother loved to eat those cakes, so sometimes he'd beg me to bake him one and when I do, he would eat half of the cake within an hour after it comes out of the oven.
Check here my No-Bake Oats-Date Balls
So when I moved to the US it was interesting to learn how people have different names for what we just call a plain cake. Some are called bread, or Bundt. And when I first heard of banana bread, I thought it is a loaf of bread but when I had some, I'm like oh I see this is just a plain cake with bananas.
So I still love to bake and eat those simple plain cakes, whether you call it bread, bundt, or just a cake that may include different flavors, whether it's bananas, pumpkin, carrots, or zucchini. They're light, fresh, and healthy with not much sugar involved, and I enjoy having them with my morning coffee or as an afternoon healthy snack that my son Faris also loves.
Most importantly when you make something from scratch at home you know exactly what it all includes, most of the ready cake mix that is available in the market is full of processed food, that can be harmful to you and your kids.
Making a simple healthy cake from scratch is as easy as opening a ready cake mix, however, the difference is huge when it comes to the quality and the amount of sugar you can control if you make your own.
So here is how I do my banana cake
For a banana cake, of course, we need bananas, and preferably ripe, as it tastes better and sweeter, so then you may use less sugar.
Mix all the dry ingredients (flour, baking soda, cinnamon, salt), in a separate bowl blend eggs then gradually add vanilla, sugar, and melted butter. Pour the wet mix over the dry one and integrate both well together, then add yogurt and mashed bananas. Then add walnuts, some people prefer it without any nuts, but I love walnuts with my cake.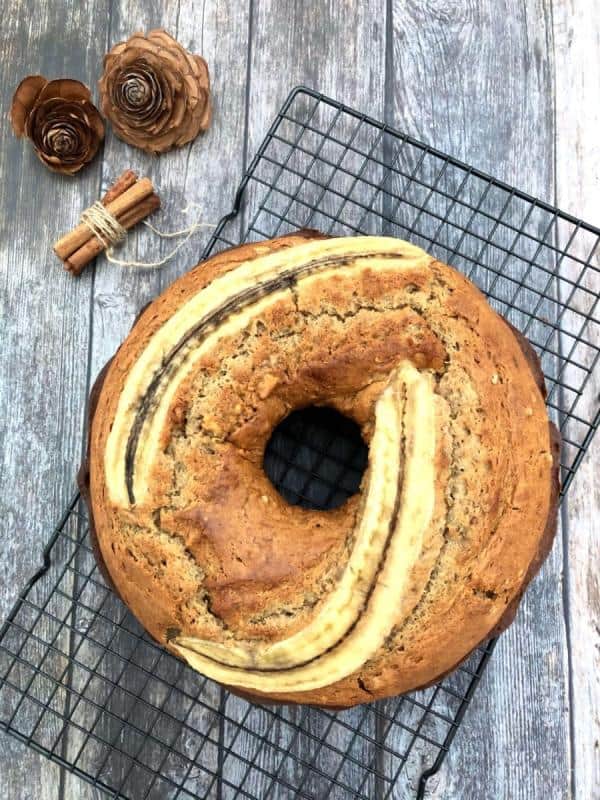 Print
Banana Cake with Cinnamon and Walnuts
---
3

cups

flour

2 teaspoons

baking soda

½ teaspoon

salt

2 teaspoons

cinnamon

3

eggs

2 teaspoons

vanilla

1

cup

melted butter

¾

-

1

cup

sugar

1

cup

yogurt

4

medium-size bananas (smashed)

1

cup

chopped walnuts (optional)
---
Instructions
Preheat oven to 350 degrees F (175 degrees C). Grease and flour either two 8x4.5" loaf pans or a bundt pan about 9-10 inches.
In a large bowl, whisk all dry ingredients together: flour, baking soda, cinnamon, salt.
In a separate bowl blend eggs then add vanilla, sugar, and butter.
Pour the wet mixer over the dry one and mix very well, then add yogurt and mashed bananas. Integrate everything well together.
Add walnuts towards the end and mix well.
Pour into a previously greased pan (s).
Bake for about 50-55 minutes in a preheated oven.
---