Pickling is a big thing within the Palestinian cuisine, we pretty much pickle most vegetables, the most popular ones are cucumbers and turnips. Cauliflower gets its share as well, and it's one of my absolute favorites. Pickles are a must have in the Palestinian pantry (monneh).
Most Palestinians make their pickles at home. My mother never bought any pickles fromt he market. That's why they're freshly made and do not include any preservatives, as the case with this his recipe. I used few simple ingredients that are available at home, and added beets to get this beautiful pinkish color.
I love pickles and not only it can be an appetite opener and adds a delicious taste next to numerous dishes, but also have great health benefits, the bacteria that comes from fermented vegetables is beneficial to one's gut.
I use to think pickling is hard and I can never do it right until I started making it, and it appeared to be much easier than I thought. So, try it out if you enjoy eating pickles next to your meal and with your sandwiches.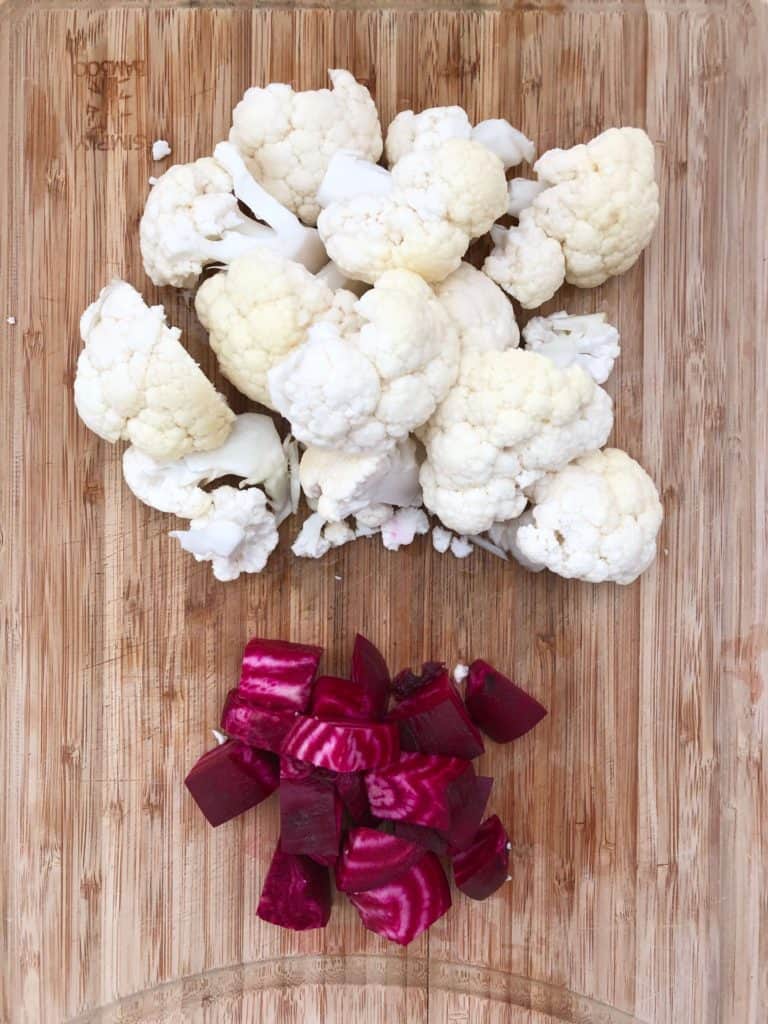 So here is how to make cauliflower pickles:
Wash and rinse cauliflower then cut into small to medium size florets. Cover with boiled water for 2-3 minutes only. Rinse hot water out. This step is only to take the cauliflower strong fragrant away before pickling. For getting the red color I use beets, natural, fresh and they also taste good once pickled, one or two small size beets are enough to get the right color. Wash beets well take top and bottom stems out and chop into cubes.
Fill up jars with cauliflower florets and some beets, few cubes in the middle and few on top. I like to use a few medium-size jars versus placing all in one big jar. That way they'll stay fresh once opened.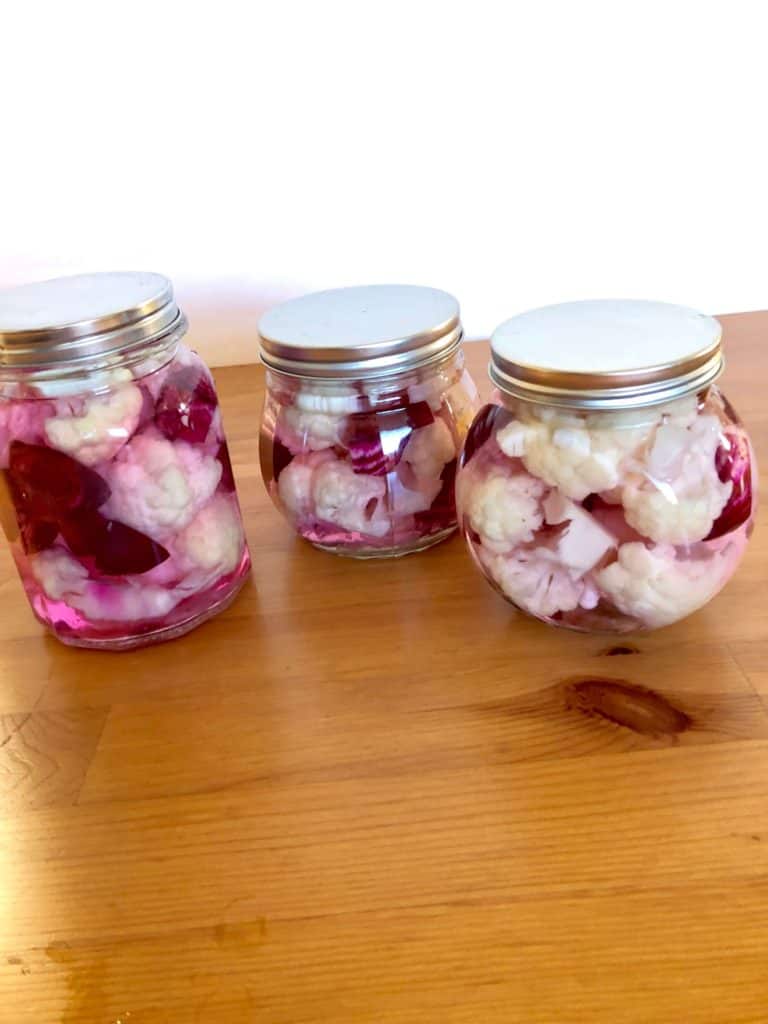 As for the liquid, mix 1 tablespoon of sea salt (be aware that regular salt is saltier than sea salt) with 1 and a ½ cups of tap water, fill up the jar with the mix to the top. On top of the jar add one 1 tablespoon of vinegar and 1 teaspoon of sugar. Close the jar tight and keep for about 5-7 days depending on the weather in your area and the time of the year. The warmer the weather is the less time it'll take for the vegetables to pickle.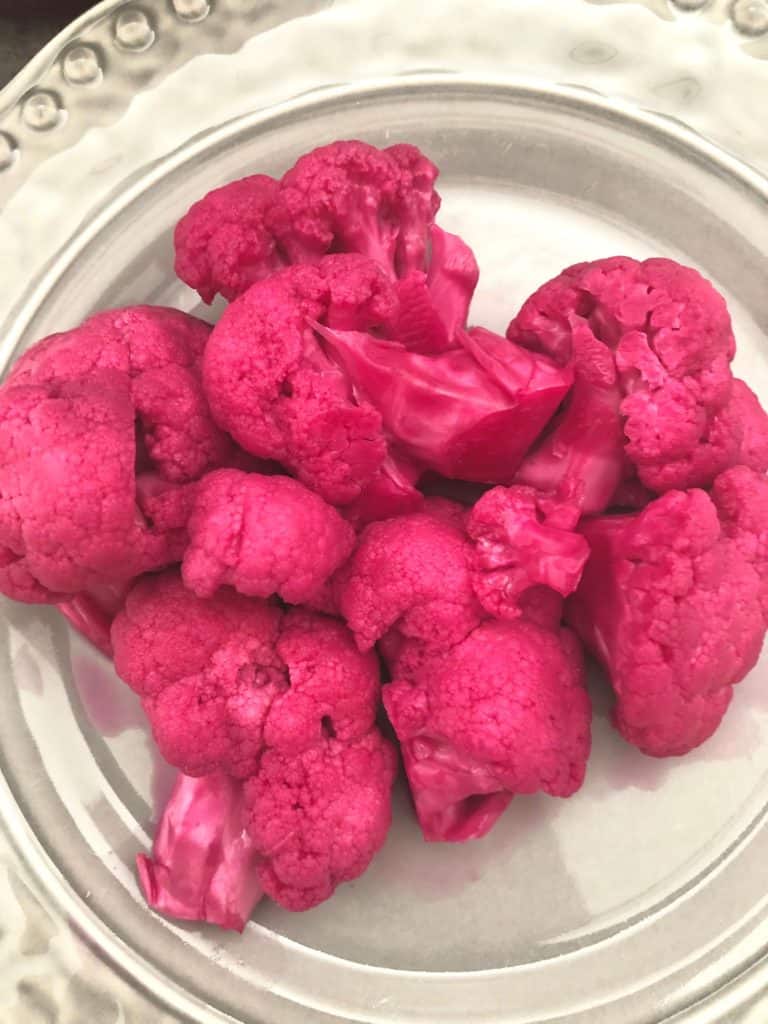 Here is how to make cauliflower pickles in steps: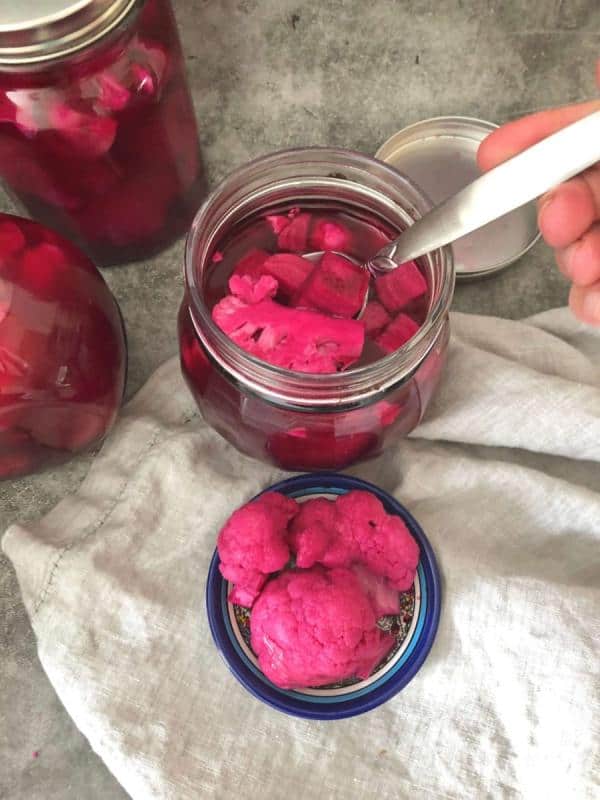 Print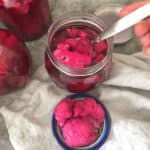 Cauliflower Pickles مخلل زهرة
---
1

small/medium cauliflower cut into florets

1

-

2

red beets cut into cubes

3 cups

tap water

2 tablespoons

of sea salt

3 tablespoons

white distilled vinegar

3 teaspoons

sugar
---
Instructions
Wash cauliflower then cut into small to medium size florets.

In a large bowl, cover florets with boiled water for 2-3 minutes only. Then rinse water out.

Wash beets well, take top and bottom stems out and chop into cubes.

Fill up jars with cauliflower florets and some beets in each jar, few beets cubes in the middle and few on top.

Mix 1 tablespoon of salt in 1 and a ½ cups of tap water.

Pour mix to the top into each jar.

On top of the jar add one tablespoon of vinegar and 1 teaspoon of sugar.

Close the jar tight and keep for about 5-7 days
---